Study in Germany
Recently Germany has become the favourite study abroad destination for International students from all over the world. It is attracting huge number of students from abroad who wants to pursue Bachelors and Master degree and who wants make an International career. You may be surprised, if you ask 100 students 80 students say they want to go to Germany. So it is a thinking fact that what is making them to choose Germany as their destination country or what are the factors that are attracting International students. Let us discuss one by one in this article. Hope this article gives you clear confidence that you have made a right choice or it will make you to choose Germany as your study abroad destination to pursue Bachelors or Master degree in Germany.
Why you have to choose Germany for your Bachelor's or Master's degree? Why Germany is a right choice for you?
Germany is a higher education hub for international students and welcomes lakhs of students every year for various programs like Bachelor degree, Master degree, PhD etc. Unlike any other study abroad destinations Germany represents world's  top Universities, Excellent specializations and huge number of courses to choose from, and Globally recognized degrees which assure you high rate of employability and German cities are pretty cheap in terms of accommodation cost. What else factors are required to decide Germany is a right choice for you to pursue you higher education.
If you want to know still further, Germany is a fifth largest economy in the world and 1st largest in European Union. And its cultural diversity, Infrastructure facility, mixed life style both Modern and classic, International exposure, Friendly environment make your living even more joyful and comfortable when you get there.
Also, Germany has been ranked among top study abroad destination, one of the recent studies says there are over 357,000 students travel to Germany for their higher education and the number is drastically increasing every year.
Let's see what are the major factors made Germany as a top study abroad destination;
Free education
At the time when you decide there is a serious necessity for going abroad for studies due to Un employability, Low scale salaries or unable to survive in the current job market, and some of you want to expand your skills and fit yourself in to technology up gradation, definitely you have to make a proper plan because Studying abroad is ultimately an Investment as you would have to pay for tuition fee and Living costs irrespective of the country you want to attend. So expenses become the main concern, but every student wants less investment and high returns when it comes to investing some money. Hence Germany is the only country which fulfils your concern as German Universities charge no tuition fee, it's completely free. Students don't need to pay any tuition fee, they might be asked pay only Semester contribution which is about 250-350 Euros per semester. Students have to take care of only their living costs.
Top-Ranked Universities
As per the recent record there are 429 Public or Government funded institutions in Germany, out of which 106 are Universities and rest are applied sciences and Institute of technologies.
Many of these Universities have been consistently ranked as world's best Universities; also international students prefer these universities for high quality teaching, Internship opportunities, research facilities etc.
German universities have worldwide reputation for their teaching excellence, Infrastructure facilities and for creating student friendly and safer ambience.
And German universities are the oldest among European countries.
Get to Explore complete Europe
International students will have an opportunity to explore complete Europe while studying in Germany. You may ask how? Yes. International students or Non-EU students who want to study in Germany have to apply for German Long term national visa as soon as they get final letter of acceptance. The visa what they get is Long term visa, as soon as they enter Germany with this visa they get Residency permit upon completing immigration formalities, this Residence permit allows all international students to travel across all 26 Schengen countries without any border restriction and additional Visa requirement during their study period. This would be a wonderful opportunity to explore most of the European countries at reasonable cost.
Let's go in brief how Visa process will be taken over? As soon as you get final acceptance letter from one of the German higher education institution, you can apply for a Visa at respective authorities in your home location, and there are criteria's that need to be met for that. After evaluation of your application you will be issued with Long term Visa which permits you to travel to Germany, as soon as you get there you will have to visit local Immigration authority with all necessary documents and get their Residency permit, this residency permit allows students to travel across any countries with in the Schengen area. But student can travel to any Schengen country as a Visitor or tourist and can stay for limited period (Not more than 90 days).
There is everything that you want to study
Having not only top Universities, Germany offers wide range of courses from different Specializations, that anybody wants to pursue depending on their interest. And German Universities have included lot of engineering related courses in fields which they are really good at and fields where there is a skill shortage like as they are good at Automotive Engineering, Mechatronics, Biotechnology, Mechanical Engineering, Computer and IT etc. You will get to choose from wide range of programs related to these specializations. That's why when you are choosing to study in Germany, you can be confident that your job has already been reserved. Germany is not only offering you whatever you are interested in, at the same time it also promises you the Employability.
Work opportunities while studying
Other than no tuition fee needs to be paid by the International students, students would also have one more option to reduce their investment in to studies that is by working part time. Yes, unlike in many European countries students are allowed to work part time during their studies.
International students can work 20 hours per week part time during course period and 40 hours per week full time when they are on vacation or holidays.
Students will have opportunities to work both on campus and off campus, like they can work as Library assistant, Student Alumni, Campus tour guide, Teaching assistance ship and Research Assistance ship etc. When it comes to off campus you can work in some Restaurants, Malls, Super Markets, Petrol pumps, Old age homes, Day care, Outside tutor etc…
But if you are intending to work part time while studying in Germany, there is one very important criteria that you have to meet i.e German Language, yes if you want to have a good Part time job or some decent job German Language is very much essential, because when you want to work in some Restaurant, Super Markets you are expected to know at least basic German as you might have to manage customers. And knowing German would also increase the chances of good wages, if someone without German language will be paid 8 Euros per hour, person with good German language can expect 10 to 12 Euros to get paid.
Good job prospects
Having said that Germany is a hub of opportunities and there has been a drastic increase in Skill shortage every year especially in Engineering, Computer and IT, Pharmacy and Bio technology etc., and also German Degrees have got Global respect and recognition worldwide. German Universities instead teaching students they train students, if to expand German Universities have adopted unique Syllabus and training methodology so as to prepare students to be matched with current skill requirement and future technology evolution.
Hence as soon as you complete you course in Germany, lot of companies offers you an attractive job with impressive salaries, but at the same time it also depend on how skilled are you both technical and management.
Even though if you want to have global work exposure, German degrees are highly respected and valued worldwide and you will get to find wide range of opportunities with in EU or outside Europe as well. And German graduates are highly paid regardless of the specialization.
New language addition to your life
When you decided to do your Bachelors or Masters in Germany, learning German language will become serious necessity for admission as many universities have made is as one of the vital requirement for international students and also for survival or Part time work it is very much required. Hence you are going to learn one more language addition to your current spoken languages, but it is not only a language it also benefits you in various way. German language is not just the requirement for the admission, it will add weightage to your profile and you can make additional career out of German language as a tutor, language specialist, Translator, Freelancer which you can also make as a part time profession. All these professions will be paid impressive salary.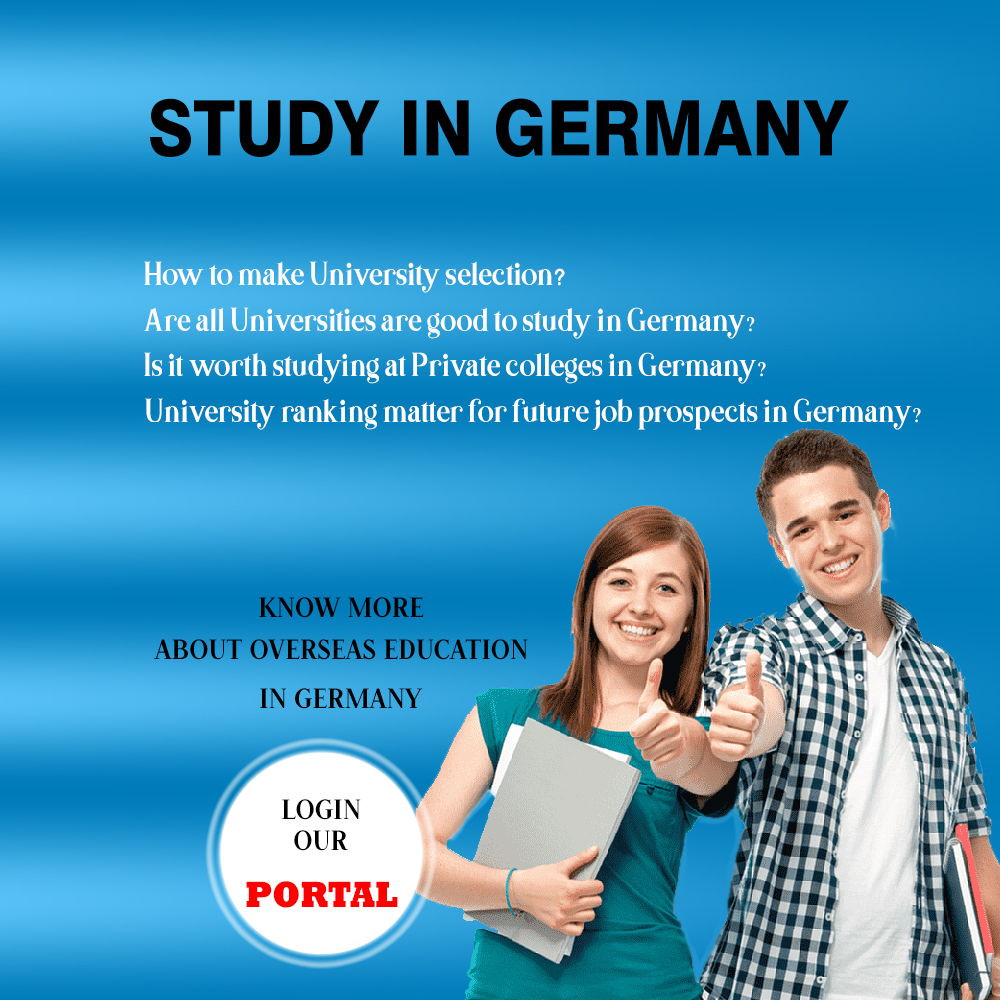 How to make University selection? Are all Universities are good to study in Germany?
During our regular counselling sessions we see students keep telling Sir I want to apply for only top Universities, although their academics are average. Because many they have a miss-conception that only if I study from TUs or top universities I would have good job prospects. Actually it is not true, reason for this to happen is that most of the German Universities have set common general entry requirements, majorly for Academics and Language, so students think that let me prefer top Universities only, when entry requirements are same for all why don't I take a chance. But still students have not understood that those are only just general Entry requirements to participate in the application process or to be eligible to apply. Once your application received at University end, selection happens on ranking basis, each University in Germany are assumed to receive about 800 to 900 applications for 20 to 30 places available, and you can imagine which place your profile stands at. Off course if students is having really good profile we do recommend to apply to top universities first, but if their academics are average we do recommend them to go with whichever the options where they have a chances of admissions. Because lot of expenses occur while applying to the Universities like Application fee, Notary charges, Courier charges etc. even though if you want to take a chance you will end up in spending 5 to 6K for each application most of the time. So you can consult any of our councilors while making University selection, we will thoroughly go through your profile and suggest you the suitable options so that you can save lot of money.
Do University ranking matter for future job prospects in Germany?
Firstly, Each and Every university are strictly monitored by German ministry of higher education and each university are assessed on regular basis, so that each university maintains same standards and Quality of Education as per the Government guidelines. And we know all public Universities are Government funded, consequently all Universities are accountable to the Government with respect to Quality of Education they provide to the students. We can conclude it like whichever the University you are going to study irrespective of the Location and ranking whatever, Quality of Education remains same.
Secondly, many students worry about one thing, whether my University where I study make any impact on my Job prospects after completing my studies?
In Germany, if you want to be employed as soon as you complete your studies, the things which matter are little bit of academics, obviously you will be expected to have satisfactory academics as your first purpose in Germany was studies, then how skilled are you technically, addition to that your communication skills, managements skills and all those things, one more important thing is how fluent are you in German language, these are the only things which matter when you attend an interview, not that which city and university you studied at, whether you have studied at paid University or tuition fee less university.
Finally if you get an opportunity to study at top universities or Fee less Universities its good, if not you don't need to be disappointed, you can try for other options where you have a chances of getting admission, though if you have to pay tuition fee simply you pay it and go, study hard, enhance your skills, dedicate some time for German language, get yourself fluent, then you would also have same job prospects as everyone else and you can recover your expenses within a year or less after getting a job. So As long as you are confident yourself and get an opportunity to study in Germany irrespective of the type of University, you don't have to bother much about University rankings at all. Definitely you are going to get worth for your money when you are going to study in Germany.
Is it worth studying at Private colleges in Germany?
Will I get job if I study at Private colleges in Germany?
Many get many students with poor academic background but highly motivated and talented, on the other end few people they would have completed long back and had valuable work experience so far but they want to study in Germany. For both its difficult to get in to public Universities as some they don't meet the entry requirement and some they are over matured to apply for Public Universities. In this case we do recommend them to choose Private colleges to study in Germany, but they are so concerned whether their degrees will be valued as equally as Public Universities? And they might have less job prospects. In Germany private Universities also offers same quality of education and they are respected equally, but only difference is here you will be paying tuition fee may be higher than public Universities, other than that no big difference. As already having explained in previous article, if you are highly motivated and skilled or having strong work experience in the similar field of your studies, it is still worth studying at Private Universities. When you start searching for a job finally your skillsets and language proficiency matters as said earlier, not is your degree from Public or Private University or college.