Days, months, seasons in German
German for beginners | Days | months | seasons in German | Self introduction | German A1 classes |
German for beginners:- Topics included
Days – Tag – day, Woche – week
Months – Die Monaten, Months in German are quite similar to English
Seasons in German – Die Jahreszeiten
Self-introduction in German – Learn German phrases to introduce yourself
For more German beginner courses follow our updates
Days, Months and Seasons in German
Days of the Week (Tage der Woche):
Montag – Monday
Dienstag – Tuesday
Mittwoch – Wednesday
Donnerstag – Thursday
Freitag – Friday
Samstag (or Sonnabend) – Saturday
Sonntag – Sunday
Months (Monate):
Januar – January
Februar – February
März – March
April – April
Mai – May
Juni – June
Juli – July
August – August
September – September
Oktober – October
November – November
Dezember – December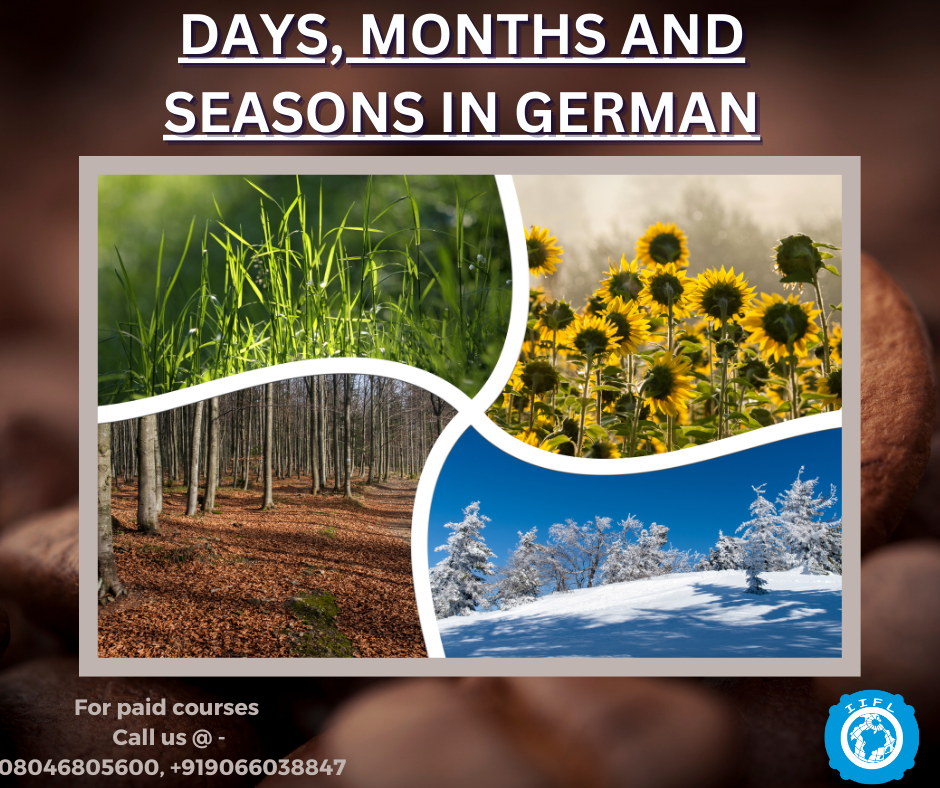 Seasons (Jahreszeiten):
Frühling – Spring
Sommer – Summer
Herbst – Autumn/Fall
Winter – Winter
Here are some example sentences using these words:
Der Montag ist der erste Tag der Woche. (Monday is the first day of the week.)
Mein Geburtstag ist im März. (My birthday is in March.)
Der Sommer ist meine Lieblingsjahreszeit. (Summer is my favorite season.)
Click here to learn more about German Online Language Courses
Learning these words is essential for discussing dates, making plans, and talking about the weather in German.