Preparing IELTS in Bangalore
The IELTS is an international English language test that you need to pass in order to get into any university. It's not a simple task, and we know how hard it can be to prepare for the exam without knowing what you should be studying. That's why we've come out with this blog post – to help you out!
Contact Number : 906 603 8847
The IELTS Test
The International English Language Testing System (IELTS) is the world's most popular high-stakes English language test. Over three million tests are taken each year.
IELTS assesses all of your English skills – reading, writing, listening and speaking, and is designed to reflect how you will use English at study, work and life in an English-speaking country.
There are two versions of the IELTS test:
• Academic – for people applying for higher education or professional registration in an English-speaking environment
• General Training – for those who want to migrate to Australia, Canada or the UK, or who need to provide evidence of their English proficiency for work or study purposes.
You will take the same Listening and Speaking modules for both versions of the test, but different Reading and Writing modules. The total test time is 2 hours 45 minutes.
If you are preparing to appear for the IELTS exam and if you are looking for better training then the Indian Institute of Foreign Languages is the best place to learn.
Indian Institute of Foreign Languages provides  IELTS exam preparation Classes. we train students on
Reading Module
Writing Module
Listening Module
Speaking module
The training focuses on teaching strategies for passing each module. Sufficient practice sessions will be given to eliminate anxiety about speaking. A sufficient number of writing practice sessions will be conducted and tips will be given depending on performance in the writing practice sessions. A sufficient number of practice tests will be provided for the reading and listening modules.
Hi All, We are glad to inform you that we have started IELTS classes in Marathahalli, Bangalore as well. Please visit our website https://marathahalli.iifls.com of the Marathalli Branch for more details.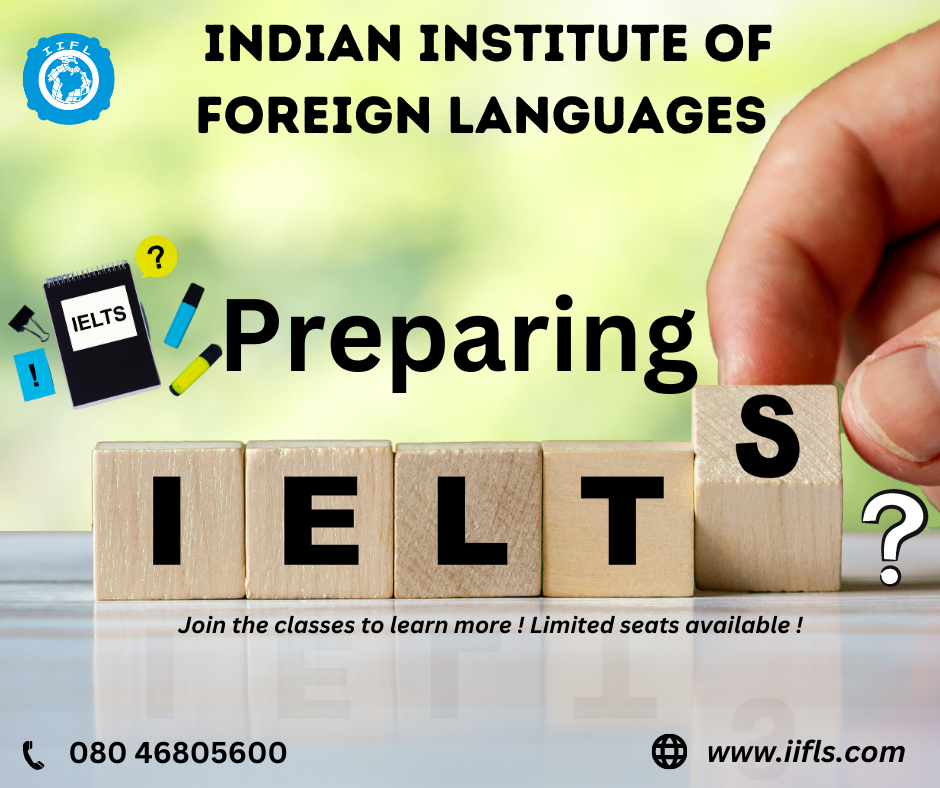 If You are planning to
Immigrate to countries where English is spoken
Study abroad
Then IELTS results plays a vital role in Getting visa approval and getting admission in foreign universities. It being one of the criteria to get admission in foreign universities, proper preparation is necessary.
We will help you get registered for IELTS exams.
Preparing for the IELTS Test
The IELTS test is divided into four sections: Listening, Reading, Writing, and Speaking. The total time for the test is 2 hours and 45 minutes.
Listening: The listening section consists of four parts, each with 10 questions. You will have 30 minutes to complete this section.
Reading: The reading section has three passages, each with 12-14 questions. You will have 60 minutes to complete this section.
Writing: The writing section has two tasks. Task 1 is a report of at least 150 words based on one or two charts or graphs. Task 2 is an essay of at least 250 words on a given topic. You will have 60 minutes to complete this section.
Speaking: The speaking section has three parts and lasts about 11-14 minutes.
In Part 1, you will answer questions about yourself and your daily life.
In Part 2, you will speak about a given topic for 1-2 minutes.
In Part 3, you will have a discussion with the examiner on the topic from Part 2.
Indian Institute of Foreign Languages is the best place for IELTS preparation in Bangalore, we have expert trainers and infrastructure to prepare for the IELTS exam.