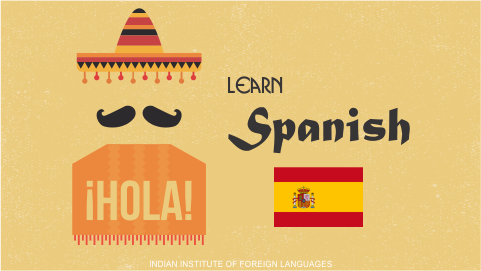 3 best ways to learn the Spanish Language in Bangalore
Have you chosen to learn the Spanish language? Your decision is good. Because Spanish is the 3rd language in the top ten International languages. Over 330 million people speak this language. Therefore a lot of people are learning this famous language today. It can assist you both in your travels abroad and in many businesses.
How to be a good speaker of the Spanish language?
Hi All, We are glad to inform you that we have started Spanish classes in Marathahalli, Bangalore as well. Please visit our website https://marathahalli.iifls.com of the Marathalli Branch for more details.
#3 Learning Spanish with Best Books and Best Mentors
Now a days learning the Spanish language in a best way has multiple options. Best books are very popular way to study Spanish. But one thing, without mentor you cannot be on the right path. For example, you have a lot of reference books in Spanish but it doesn't mean that you can understand each and every word. Remember, books can't talk with you! You can't utilize them to listen and repeat Spanish words and sentences. So you need a guide and a good tutorial class. Therefore, we provide the best trainer and popular books as you want.
Spanish classes in rajajinagar
#2 Selecting an Institution for Spanish
Institute is not the only concern but the trainer should have good experience as language cannot be taught easily. So make a wise decision.
Click here to learn more about best ways to learn the Spanish language in Bangalore
#1 Learning Spanish Using Software Techniques
You could use specific software to learn Spanish language. You could use voice recording feature, audio and videos recorded by native speakers and interactive language training games.
You can study this popular language faster and easily by our simple study process with the help of our experienced and qualified trainers and a good study environment. Indian Institute of Foreign Languages gives you appropriate tips and suggestions.
Then you can directly visit our popular Spanish Institute in Bangalore that assists you in listening, reading, writing and speaking. Few people are simply studying a new language. It is not sufficient just to learn some words or phrases. If you can say a few words, but not a complete and meaningful sentence, then it will not be of any use and it is not a complete learning. So we offer the course with step by step instructions.
Here every minute, every day you can interact in Spanish without feeling shy. Yes, it's an expensive language in the current generation but not expensive to learn Spanish at Indian Institute of Foreign Languages Bangalore.
Learn interesting facts about the Spanish Language
Hope you got the 3 best ways to Study the Spanish Language in Bangalore
Please feel free to call us for more details.