Spanish Classes in Rajajinagar: WHY LEARN SPANISH LANGUAGE?
Spanish Classes in Rajajinagar: Spanish is a language easy to learn. The pronunciations are not difficult to make and it's always easy when compared to  other languages such as French and German, in which even when spellings are known, pronunciations are not easy to make.
Many words and expressions in Spanish are similar to that of English, as most of them are derived from Latin. Words related to technology , culture, and so on have been adopted by Spanish from English.
Spanish language is called as Espanol or Castellano.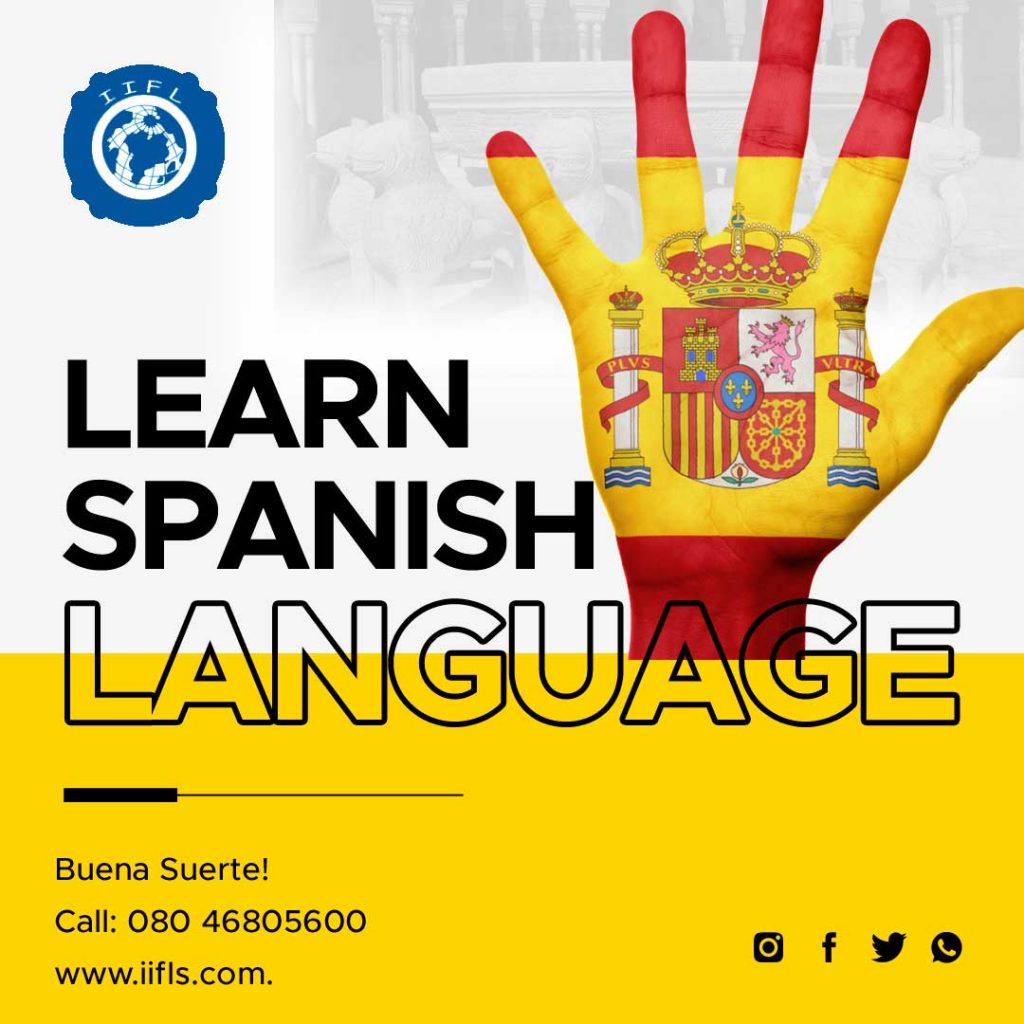 This language is spoken almost in 21 countries and it is the third most widely spoken language.
Spanish being one of the official languages of UN, it is used by the EU and The union of South American nations also as an official language.
Moreover, it is widely spoken in the Hispanic America apart from Switzerland, UK, France, Italy, Germany, Gibraltar, Andorra, and Catagana.
The origin of Spanish from castile region of Spain which is part of Indo-European romance languages which includes English, French, German, Bengali, Russia, Hindi, Urdu, Marathi, Portuguese and Punjabi.
Around 470 millions natives speak Spanish worldwide. It is taught as either second or third language in schools and is also learnt as a Foreign language by around 21 million students.
BENEFITS OF LEARNING SPANISH:
Business executives who travel frequently to Europe, North and south America, Republic of Africa, learning Spanish is useful to develop their business in these areas.
Spanish is beneficial for travelers who want to explore Central and South America as it would help to travel and communicate easily in these areas.
As Spanish is a language easy to learn, it can be learnt with fun too. Spanish culture is unique and it's food is amazing. Tacos, Tortillas, Paella are few of them.
Furthermore, Spanish music is popular as many artists have topped chartbusters and they are now Latin pop singers. Learning Spanish enables one to listen and enjoy their songs in Latin or Spanish. A good reason to learn Spanish is to avail employment. In this global era, Spaniards have expanded their business interests in many countries. So, knowing Spanish provides an opportunity to work in a Spanish Multinational company in India and abroad.
SPANISH  CLASSES AT RAJAJINAGAR:
HOLA A TODOS!
Numerous job opportunities are created for everyone who aspire to learn this easy, romantic and amazing language.
You can dream of a  great future as a Spanish  translator, interpreter, linguist, and as a language trainer. So, hurry up! Enroll for the Spanish language classes at Indian Institute of Foreign Languages, Rajajinagar branch.
At Indian Institute of Foreign Languages, the trainers are committed and proficient. The classes are conducted for all the 6 levels: Beginner(A1,A2), Intermediate(B1,B2), and proficient level (C1,C2).
At Indian Institute Of Foreign languages, standard textbooks are followed as course materials which are of international standards and we also customize.
provide the textbook as per the requirement of students.
So why Delay? Avail the best of the training courses for Spanish language at our Rajajinagar, Bangalore.
DELE EXAM: PROFICIENCY TEST FOR SPANISH LANGUAGE
The syllabus followed at our institute is prescribed by CEFR. The common tests for Spanish language are:
E.L.E – Diplomas de Espanol como Lengua Extranjera (Issued by Instituto Cervantes on behalf of Spanish Ministry of Education and Science)
I.E – Diploma Internacional de Espanol (Issued by Instituto Hispania)
SIELE(Launching in 2016)– Servicio Internacional de Evaluacion de la Lengua Espanola – (Issued by Instituto Cervantes in liaison with Universidad Nacional Autonoma de México)
DELE EXAM SYLLABUS
The syllabus is framed for students who are totally new to Spanish,
AT A1 LEVEL:
Students are able to:
Use simple sentences and expressions related to everyday affair.
Greet, salute, say good bye, giving thanks and making requests and apologising.
To accept and reject invitations and describe places, people, or things.
To express likes, dislikes, tastes, moods, joy and sorrow.
AT LEVEL A2:
At this level, students are able to
Communicate simple sentences with native speakers, to accept and deny proposals, seek permissions, follow instructions and commands. Express satisfaction and desires.
Listen to stories, news, reports and understand.
AT LEVEL B1:
At this level, students are able to
Speak fluently in different tenses such as present tense, past tense, future tense.
Are able comprehend and answer questions, summaries the text and deliver the same. Give and take directions and instructions as well.
Are able to apologies, enquire about mood and give suggestions based on a topic. Are able to participate in a discussion and converse fluently.
AT LEVEL B2
At this level, students are able to
Narrate an event, make use of reported speech while narrating. Express stronger emotions like grief, concern, gratitude, and appreciation.
Are able to propose ideas and and argue, to write formal and informal letters. summarize and paraphrase the text with considerable fluency.
AT LEVEL C1
At this level, students are able to
Write grammatically accurate sentence-structures, give presentations, articles with fluency.
Express their point of view, argue considerably well and also are able to initiate and conclude the arguments, debates and discussions.
AT LEVEL C2
At this level, students are able to
Understand and speak at a fast pace, link ideas, add information and so on. They are able to extract information and summarize texts. Understand and respond to a native speaker without any difficulty.
Distance between Indian Institute of Foreign Languages (Rajajinagar) and other prime locations are as below:
Malleswaram: 1.5Km Approximately
Vijayanagar: 3Km Approximately
Basaveshwara Nagar: 3Km Approximately
Mahalakshmi Layout: 2.5Km Approximately
Magadi Road: 2Km Approximately
Mathikere: 3Km Approximately
West of Chord Road: 1Km Approximately