Online classes for Japanese
Japanese online classes:
In Japanese online classes will teach you about the complete fundamental aspects of the Japanese language. All levels will be conducted through online as well as offline classes. For all these levels which are Japanese N5, N4, N3, N2, and N1 we are using standard study material like Minna no Nihongo which gives you knowledge about the Japanese language, you can understand the grammar, Japanese script (Hiragana, Katakana, and Kanji), how to interact with people with a basic conversation to complex sentence creation, you will also know about Japanese culture, food, living style of Japanese people, etc. Online Japanese Classes or offline classes will be taken by our expert trainers. Classes will be taken by groups or individuals for online classes we use zoom animated video software to develop your learning skills. Indian Institute of Foreign Languages is a certified training institute with four branches in Bangalore those are Banashankari, Jayanagara, Marathahalli, and Rajajinagar.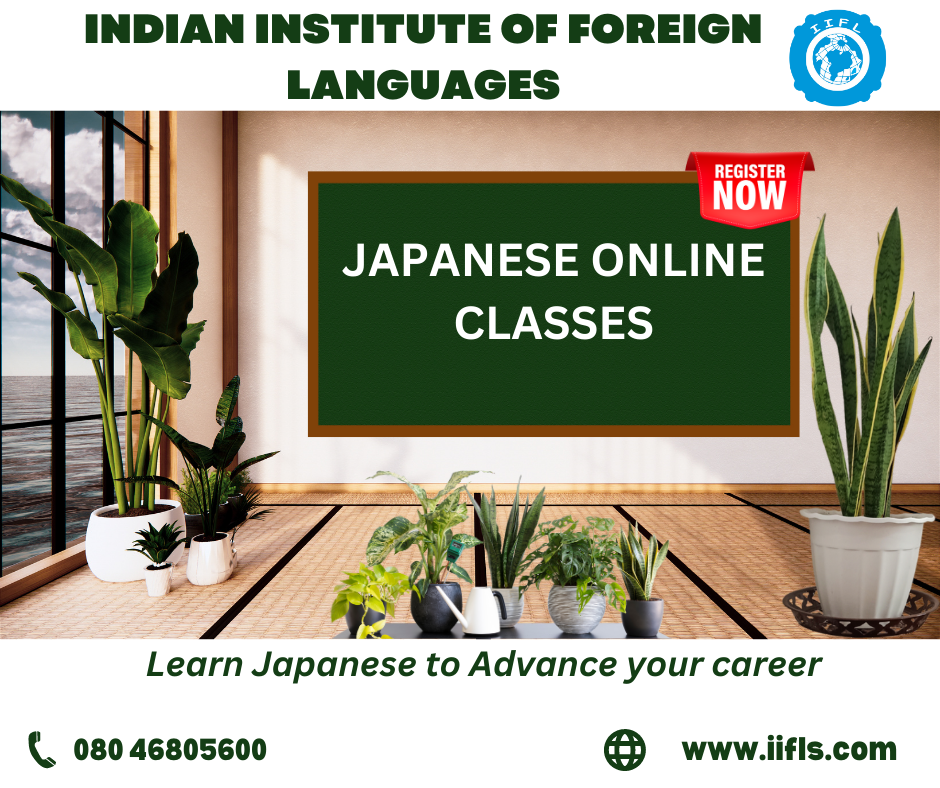 The Japanese language is spoken by more than 120 million people across the world, but it is not only in Japan also large number of migrant communities in Brazil, USA, and in Asian countries. If you want to go Japan for higher studies, employment in Japan or in any other countries, want to travel to Japan, interact with Japanese people, running the business with Japan or Japanese people this Japanese Online classes will help you.
Advantages of learning the Japanese language?
Benefits of learning Japanese language for job seekers have more options than just to travel. Learning a second language could help keep dementia at bay and improve the effects of mental aging. On the business side, Japan is a leader in the tech industry. Whether it's physical benefits or a jumpstart to your career, learning Japanese is worth it. The writing system is complex, and Japanese grammar can be unusual for English speakers, but the payoff is extraordinary in expanding your language skills. Tokyo is a world leader in industry, education, and food. If you take the time to learn a new communication skill, it opens up travel or business relationships. Learning the written language could be extremely beneficial for those of you in international business or research. Japanese has several systems of writing, including Katakana, Hiragana, and Kanji. It's been influenced by Chinese characters, but it has a different language family. It shows some similarities with Altaic Languages but belongs officially to the Austronesian language family. Japanese speakers have influenced world culture for generations, and the language has also had effects on certain parts of the United States. Now is a great time to begin learning this interesting language.
Japanese Lessons, Courses, and Certifications
If Japanese learning is part of your goals, edX.org can help you achieve language proficiency in partnership with leading institutions in the field. Tsinghua University offers a course series in Japanese language and culture. You'll learn Japanese sentence structure, Japanese phrases, and Japanese verbs in addition to critical aspects of culture. You can also take Japanese pronunciation courses with Waseda. You can learn to pronounce the way native speakers do while gaining an understanding of formal situations and Japanese uses of different words. Soon you will sound like a native Japanese speaker at an intermediate level. If you want to go beyond language uses, you can learn about modern Japanese culture, the Japanese writing system, and how Japan has influenced and been influenced by other cultures. Culture can be an essential part of learning these major languages so you can increase the chances you remember what you've learned.
Make Japanese Part of Your Life
Language learners help bring the world closer together with common and new words. Building skills with Japanese language courses helps you with your career and could improve your life. Maybe you're looking for help with understanding anime, translate Japanese to English, English to Japanese, or something for your career. Regardless, Japanese can be a great asset for you. The origins of the Japanese language is ancient, but it has modern influence in many fields. Don't let the word order intimidate you. Japanese is a wonderful language to learn for work or fun. Anyone can learn a language with the right resources, and edX can help get you on your way.