Japanese Classes in Rajajinagar: WHY LEARN JAPANESE LANGUAGE?
Japanese Classes in Rajajinagar: There are innumerable benefits of learning Japanese language; few of them are stated below.
Having knowledge about Japanese language leads to great employment opportunities in the job market.
A student can plan to study in Japan as there are opportunities to study.
It's a pleasure to know the rich and diversified culture of Japan.
Professionals can work in a Japanese gaming company.
As Japanese language is vast, one can enjoy reading comics and anime as they are very popular in the country.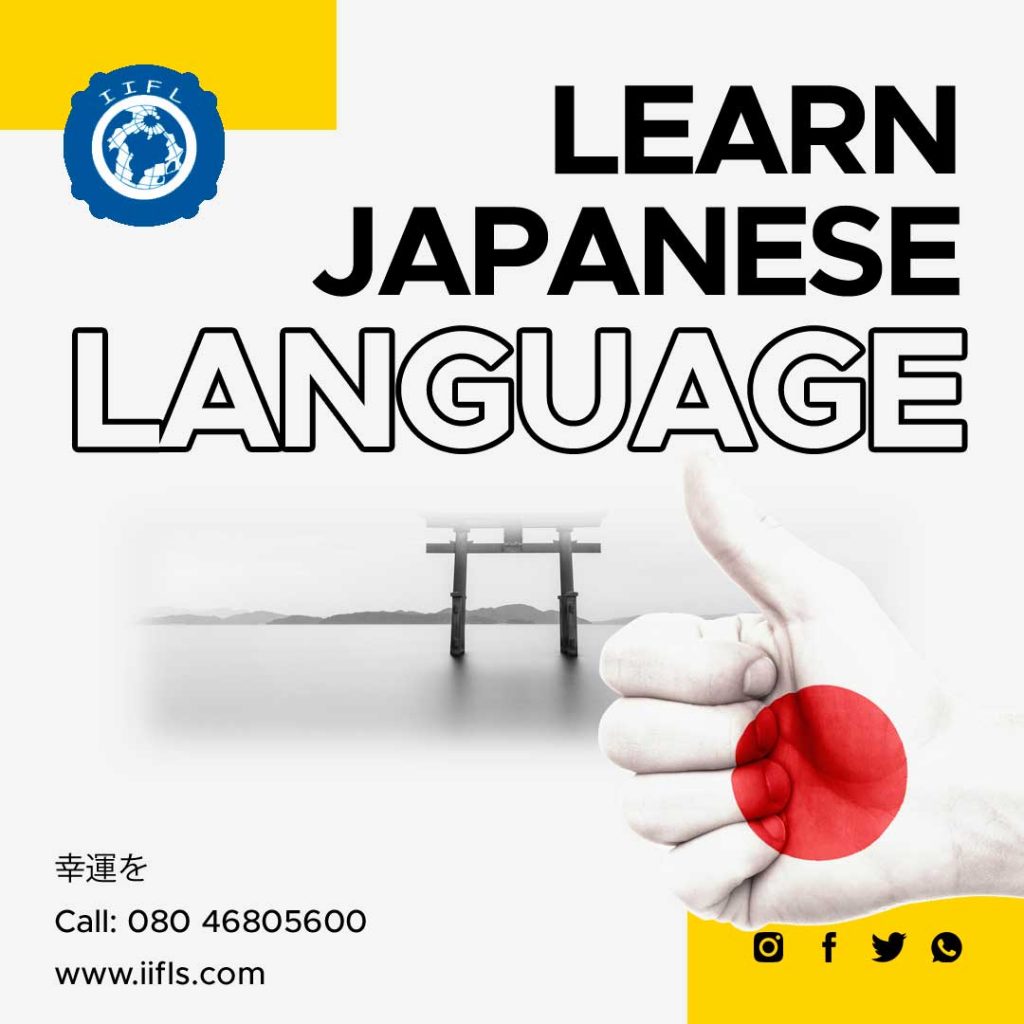 INTRODUCTION TO JAPANESE LANGUAGE
The country Japan is called 'Nihon' and language as 'go' So, "Japanese language " is called "Nihongo"
An interesting fact is that the Japanese language uses three different alphabets; Hiragana, Katakana and kanji. All the three types differ in their appearance and by their usage.
Moreover, learning Japanese language is easy when compared to languages such as English and Dutch.
Grammar in Japanese language is relatively easy. It just takes little time and effort to learn the alphabets, especially, the kanji. However, it can be learnt faster with right dedication. One can easily attain proficiency in this language.
Japanese language belongs to Japonic language family and they follow three different writing scripts
There are other terms for Japanese alphabets which makes learning the language much more easier.
A student can plan to study in Japan as there are opportunities to study
A foreign speaker who cannot understand Japanese language can rely on Romaji which is the name given to the Japanese characters after Romanization.
For children who are at the beginning stage of learning this language, and also beginners, Furigana are taught which are smaller characters of Hiragana and Kakatana that are placed above or next to kanji characters to help them in reading.
Japanese classes at Rajajinagar
Welcome everyone! Rajajinagar  branch is the new branch of Indian Institute of Foreign Languages. Anyone who is interested to learn Japanese language can avail classes at this branch. For further details, please contact our main branch.
Contact number:
Email address:
JPLT EXAM- EXAM TO TEST LANGUAGE PROFIIENCY
JPLT Exam is the exam conducted to test the proficiency of Japanese language achieved by the students. There are five levels: N5, N4, N3, N2 and N1.
N5 is the beginner level and N1 is the master level.
The JPLT test certificates are accepted by most of the life and it is for valid through out life. But, some universities have specifications about its validity. JPLT test has two parts: Reading and listening.
Language Proficiency achieved at different levels are as follows:
 N5 LEVEL
Able to read basic phrases and understand them, sentences are expressed combining all there scripts.
Able to listen and understand simple conversations in everyday life, for example, at school, classroom, market, and at shops.
 N4 LEVEL
Students develop the ability to read passages and essays and comprehend them. They are able to ask questions, make requests, and commands.
 N3 LEVEL
Students are able to write simple paragraphs, essays and letters.
Able to read articles, dictionary, short poems and stories and can easily identify around 700 kanji.
N2 LEVEL
Students are able to read information on common topics in the newspapers and magazines, and also understand writers thoughts and views.
They are able to follow instructions if spoken at a clear and normal speed.
N1 LEVEL
Students are able to read and comprehend texts and clearly understand the point of view in the text.
Contact us for Japanese Classes in Rajajinagar
Distance between Indian Institute of Foreign Languages (Rajajinagar) and other prime locations are as below:
Malleswaram: 1.5Km Approximately
Vijayanagar: 3Km Approximately
Basaveshwara Nagar: 3Km Approximately
Mahalakshmi Layout: 2.5Km Approximately
Magadi Road: 2Km Approximately
Mathikere: 3Km Approximately
West of Chord Road: 1Km Approximately