IELTS classes in Bangalore
Are you an international student looking to study abroad in a destination of your choice? Or maybe you've already decided and are seeking admission into universities abroad? No matter what the case is, for foreign students, IELTS is a must-have qualification.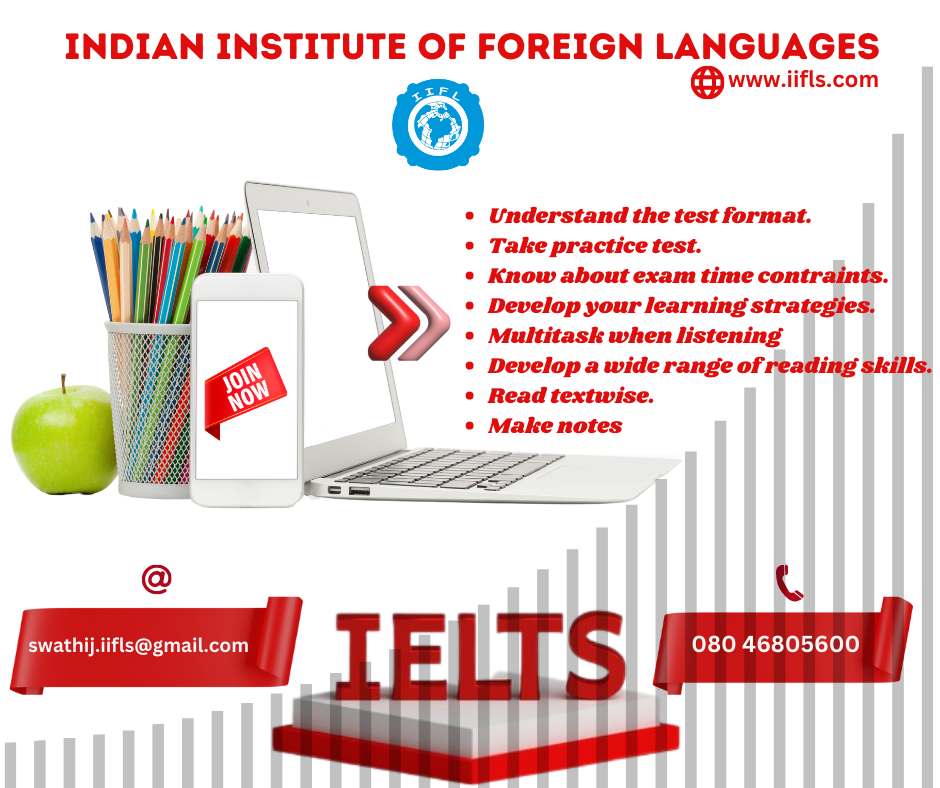 It is great to know that an English proficiency test can determine the life choices you want to make. If you have decided what to do, it will be not that hard to scale your career.
Before going with the buzzword, it is the career aspirant who needs to have an affirmation of the IELETS goals. As per the common understanding, IELTS is all about a test to score grades and get the ticket to move to distant lands.
Though, it is not all about like this because it is the fundamental gateway to check the things a candidate wants to pursue ahead. So, it is not a scary initiative rather a better way to move a step close to achieve your dream l and train from ielts classes. Well, this exam opens up opportunity to improve the English skills, get the job permit, and also to study further.
If you're looking to improve your English skills and increase your chances of getting into top universities, taking IELTS classes in Bangalore can be the best way to get started. In this blog post, we will explore why taking IELTS classes in Bangalore could be beneficial for you and how to choose the right one that fits your unique needs. Read on to learn more!
Type of IELTS Test
Gaining experience for the test day can be a bit different. In times of preparing, aspirants can choose coaching centers where IELTS classes online will be conducted on paper. Instead of online classes, examinees are given questions to solve on paper. But, time allocation and test content are similar to the General and Academic IELTS training test.
As the examination involves reading, writing, speaking and listening, the candidate can perform tests either on computer or on paper. In both test patterns, speaking is conducted online exchanging conversations with the speaker. Those who settle to give exam on paper, are curious to know about the IELTS course duration. The basic difference is that examiners conducting  exam pattern on paper cannot give breaks in between.
IELTS Academic
IELTS Academic is one of the most popular English language proficiency tests for international students who wish to study in English-speaking countries. The test assesses your ability to communicate in English across all four language skills – listening, reading, writing and speaking. It is  handled together by the British Council, IDP: IELTS Australia and Cambridge Assessment English, and was established in 1989.
IELTS Academic is widely accepted by universities in the UK, USA, Canada, Australia, New Zealand and Ireland, as well as other institutions around the world. If you are planning to study at university level in an English-speaking country, then you will need to take the IELTS Academic test.
The IELTS Academic test is made up of four sections: Listening (30 minutes), Reading (60 minutes), Writing (60 minutes) and Speaking (11–14 minutes). You will be tested on your ability to understand spoken and written English from a range of sources, including lectures, books and articles. The Speaking section is conducted as a face-to-face interview with a certified examiner.
You will be given a score for each section from Band 1 (non-user) to Band 9 (expert user). These scores are then combined to give you an overall Band Score from Band 1–9.
How to Register for IELTS
In order to register for IELTS, candidates must first create an account on the IELTS website. Once an account has been created, candidates can then log in and select the 'Register for IELTS' option. After selecting this option, candidates will be able to see a list of upcoming IELTS test dates and locations. Candidates must then select their preferred test date and location, and complete the registration form. It is important to note that registration for IELTS closes four weeks before the test date, so candidates should ensure they register in plenty of time.
Does the Physically Challenged Opt for IELTS?
Though it sounds strange that the physically impaired candidates are able to clear the four rounds of IELTS, it is possible with the global IELTS networks. As the preparation for IELTS gets started, each participant starts to find IELTS coaching centers near me.
 With the special arrangements of IELTS, challenged people too make the gateway to enroll for the exam. Do they fall hard with the major English proficiency test? No, the availability of modified large paper, braille paper, special listening test can help you. Concerning the listening test, challenged individuals can access voice activated software and word processing software, and amplification equipment.
Test Dates and Locations
The International English Language Testing System (IELTS) is an English language proficiency test for non-native English speakers who wish to study or work in an English-speaking environment. The test has two versions: Academic and General Training. Both versions are divided into four sections: Listening, Reading, Writing, and Speaking.
The IELTS test is offered at many locations around the world. In Bangalore, the test is offered at the British Council and at the IDP IELTS India centers.
The test fee for IELTS in Bangalore is INR 12,650 (or equivalent in other currencies). This fee is valid as of 1 April 2019 and is subject to change without prior notice.
To register for the IELTS test in Bangalore, you can either visit the website of the British Council or IDP IELTS India.
Purpose of the Test Indicator
During the pandemic, it was impossible to pursue with academic aspirations. Nevertheless, a few struggled to clear the lines of higher education and want to streamline accordingly. To bridge between struggle and success, the IELTS classes have made a start to check English proficiency level. For simplifying the process, the IELTS indicator is considered as the best new model of online test.
Is There Any Added Advantage of IELTS at Test Centers?
After knowing about the IELTS course duration, IELTS examinees enrolling in the IELTS exam understand that exam at test centres is a real plus. It is said because candidates wait eagerly to have the results in time. To receive results at ease, they can appeal test centres to send exam results at five organisations maximum.
In fact, sending results of examinees doesn't require charge but it comprises additional charges to send to some additional bodies. So, it brings favour to students because they can ask test centres to the chosen addresses.
Test Format
The International English Language Testing System (IELTS) is jointly managed by University of Cambridge ESOL Examinations, the British Council and IDP Education Pvt Ltd. IELTS is recognised by over 10,000 organizations worldwide, including universities, employers, professional bodies, immigration authorities and other government agencies.
There are two types of IELTS tests: Academic and General Training.
Academic IELTS: For people planning to study or train in an English-speaking environment. The Academic test is for candidates who want to study at tertiary level in an English-speaking country or who need to register with a professional body in an English-speaking country.
General Training IELTS: For those wishing to migrate to Australia, Canada or the UK, or apply for training programs or secondary school in an English-speaking environment. The General Training test focuses on basic survival skills in broad social and workplace contexts.
Both versions of the IELTS test are made up of four modules – Listening, Reading, Writing and Speaking. All candidates take the same Listening and Speaking modules but different Reading and Writing modules depending on whether they are taking the Academic version or the General Training version of the test.
IELTS Results
IELTS results are valid for two years. After you have taken the IELTS test, you will receive a Test Report Form (TRF) which is your official score report. IELTS results are available 13 calendar days after the test date.
You can use your IELTS results:
-To apply for immigration to Australia, Canada and New Zealand
-For study at undergraduate or postgraduate levels
-For professional registration in many countries
IDP IELTS India is one of the leading IELTS training providers in Bangalore. They offer a wide range of IELTS courses to suit the needs of different students. The IDP IELTS India team is composed of experienced and certified IELTS instructors who are passionate about helping students achieve their IELTS goals.
The IDP IELTS India website offers a wealth of resources for students preparing for the IELTS exam, including practice tests, tips and advice from experts, and information about upcoming events and promotions. You can also find out more about the different types of IELTS courses offered by IDP IELTS India and which one would be best suited to your needs.
If you're looking for comprehensive and professional IELTS training in Bangalore, look no further than IDP IELTS India. With experienced instructors and a wide range of courses on offer, they can help you achieve your desired score in the IELTS exam.
British Council IELTS
The British Council IELTS is one of the most popular IELTS test centers in Bangalore. The test center offers a wide range of IELTS preparation courses to help you get the best score possible on your IELTS exam.
The British Council IELTS test center offers a variety of IELTS preparation courses, including an intensive course, a part-time course, and an online course. The intensive course is a 4-week course that includes 20 hours of class time per week. The part-time course is a 2-week course that includes 10 hours of class time per week. The online course is an 8-week course that you can take at your own pace.
Are you Fearing about Online IELTS Listening Classes?
Those days are gone when you have to run for offline coaching classes. It gets a better place because the online IELTS classes are offering the best course outlines. In terms of academic and general IELTS training, candidates have to answer forty questions followed with four recordings.
The mock test involves answering a set of ten questions in the listening part. To overcome the difficulties in IELTS listening round, learners need to adapt to the listening practices of conversations and monologues from native speakers.
As professionals intend to note the intricacies of the test pattern, it gets followed with drawing an idea to set of questions. Take advantage of the multiple choice of questions where the examinee needs to choose the correct answer from a list of possibilities. For getting well versed to it, everyone needs to memories the main points of the text.
In specification to the listening round, learners optimize the skills to match the set of items in relevance to questions. Mostly, individuals can make out the most of it after they find the relevant listening details.  
Each of these courses will help you learn the skills and strategies you need to succeed on your IELTS exam. You will learn about the different sections of the IELTS exam, as well as how to approach each section. Additionally, you will receive tips and advice from experienced IELTS instructors on how to improve your score.
If you are looking for the best way to prepare for your IELTS exam, taking a preparation course at the British Council IELTS test center is a great option. With a wide range of courses to choose from, you can find a course that fits your schedule and learning style.