How Do Accent Reduction Classes Work for International Speakers?
What do you think of the idea of doing something from real-life studies? The present situation demands more of it, and to tell you the systematic change reflected in communication pushes individuals to embark on new career opportunities. 
Those international students willing to adopt the native style of communication can check the lessons on accent reduction. Similarly, corporate client dealing is popularizing and to manage it proficiently, speakers are expected to be easily understood. To fill the gaps in communication and communicate more effectively, accent reduction classes are helpful.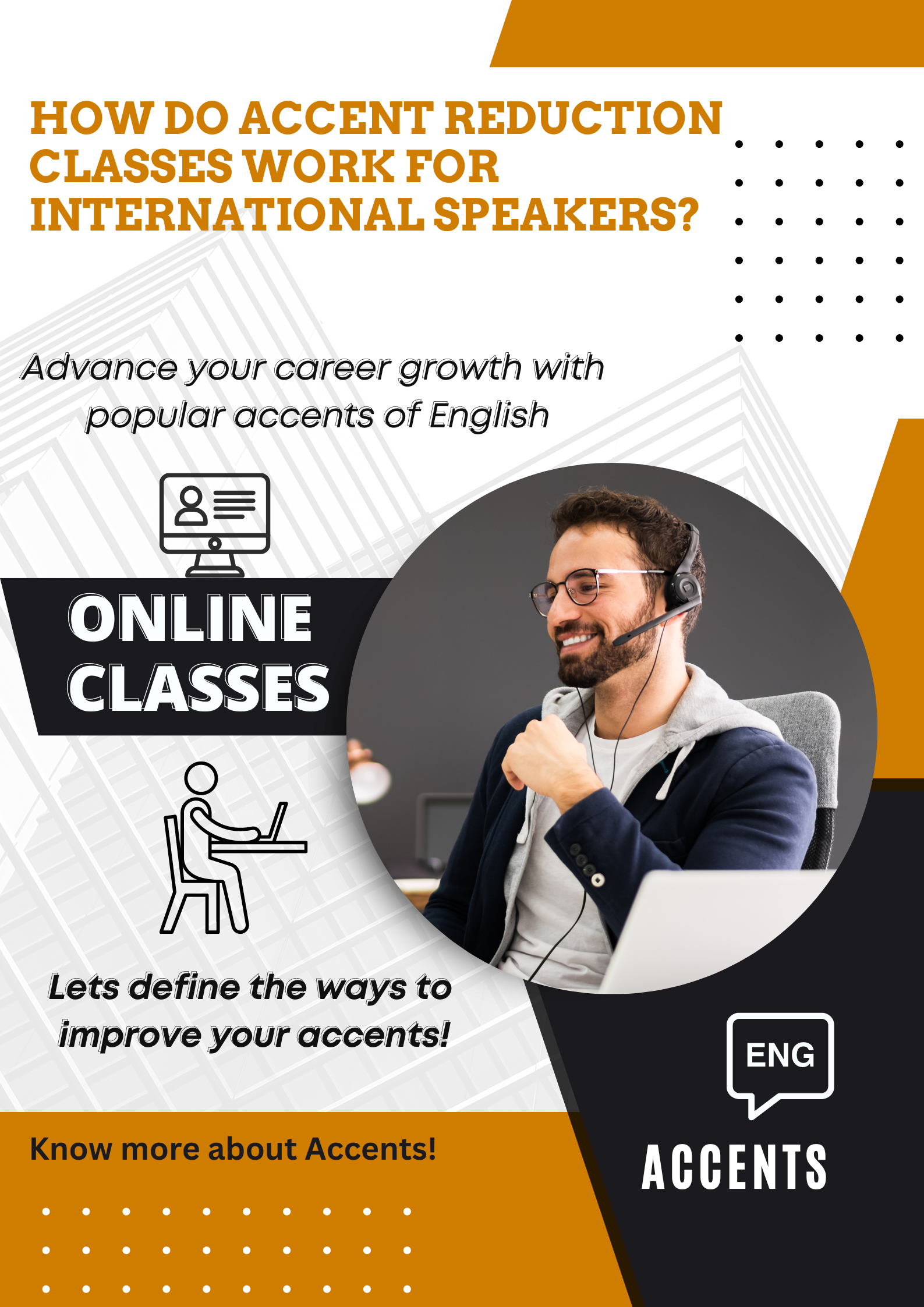 Can Non-native Enhance Accents Faster?
Is it possible for non-native speakers to improve their clarity of speech? To acquire the professional communicative pattern, accent reduction trainers can aid help in learning. Yes, while speaking, the intricacies of the language are vital to master. To hone professional skills, the trainers support learners in acquiring intelligent techniques.
How Does Practitioner Design Accent Training?
Instead of designing the accent training reduction course difficult, the accent experts combine physical and entertaining tactics. As a result, it involves the mind of learners who can note the facts by enjoying their time. Those who are fond of noting some film collectables can watch more English movies to improve their accents. 
To add more, the suggested accent training combines some notable practices such as strengthening muscle memory, delivering clear intonations, and encouraging them to follow the detailed principles of neuroscience. Also, by joining the accent reduction classes, learners are able to sharpen their conversation skills and converse with other speakers. 
Are Accent Reduction Classes Helpful?
To have an in-depth understanding of accents, it is required to give insights into the techniques.
So, accent coaches try to encompass some of the listed major accent techniques.
Exercise Breathing
Are you stuck in awe that exercising breathing helps to utter clear communication? Yes, the experts recommend learners practise more breathing exercises to enhance voice projection. By following the valued techniques of trained mentors, learners will equip in controlling breathing and ensure speaking with resonance.
Practise Intonations
Do you know that the rise and fall of voice impact your sayings the most? To deliver their sayings correctly, speakers need to use correct intonations. While speaking, speakers come with multiple expressions. So, enrolling in accent reduction classes is necessary to control voices and be natural in speech deliverables. 
Why Join the Accent Training Courses?
Whoever is interested in linguistics, is intended to focus on how to produce. In fact, the sounds of language are more vital in furnishing clear pronunciations. To be more precise, the accent trainers introduce a new aspect of accent learning. To reduce accents, learners try to equip with the best training method. 
The accent coaches of the accent reduction classes enable a simple learning technique. Improving accents no longer seems to be hard because learners get familiar with the right usage of 'phonetics.' Using phonetics allows individuals to adopt the style of speaking of Americans.
Even if you are a non-native speaker, don't feel shy to speak English. Active listening and pronouncing English sounds make it a little easier to reduce accents. Along with it, accent trainers suggest accent learners practise muscle memory. This technique enables everyone to be natural in speech deliverables by remembering the sayings and repeating the specific movements.
Are you the Right Person to Attain the Accent Training?
After reviewing the reason for obtaining the accent training course, you are now questioning your abilities about a good fit in the accent reduction classes. Increasing proficiency in communication skills is a must and you need to drop the accents in delivering the speech to people. Whatever your profession is, if your passion for language learning goes higher you should make use of the opportunity. 
Most professional experts have to deal with overseas clients. The main aspect is to exchange responsive communications. Professionals have to be better understood as fulfilling communicative goals is vital for a teacher or a doctor. To get more acceptance among customers, individuals like you should try to pronounce it more clearly.
Draw Budget Lines
The essential part to discuss the accent training project is the budget that one estimates. As an enthusiastic learner with insights into the course, finds multiple programs designed tagged with different price tags. Depending on the budget of the learner, it is better to select the mode of learning. Before proceeding further, accent learners need to know that the length of the course depends on the budget. 
Some Careful Insights on Accent Reduction
Before joining the accent reduction classes, individuals can decide on the sessions and the location. Certainly, it helps to invest in the number of sessions and each ranging between $100 to $200. What is recommended is that a consultation with accent coaches of accent reduction classes gives the best result. To obtain the best training compiled with pricing, pricing options need to be verified. For all the efforts an individual gives, has to check some of the discounts offered on the course to gain optimum benefits. In this regard, accent learners can opt for package classes detailing comprehensive programs. 
More Options to Improve Accents
Those who are on a low budget have the alternative to start. The accent reduction classes promise every learner to speak without dropping their flaws. To get started, students can register for the online accent training programs featuring audio in cassettes.
Can a non-native individual be an eloquent speaker of English speaking? Certainly, the competitive world brings the best of opportunities for ambitious professionals. Overcoming the flaws in accents is merely reduced by obtaining training from accent reduction classes. In order to get better clarity in speech, the accent coach suggests learners practise accents regularly. 
Hopefully, the worries of every non-native individual get faded in embarking on job roles and managing social situations. Fetching the benefits of accent reduction is a plus to being confident in advancing career goals. So, international students should challenge communication goals and accomplish them in the right direction.