Career English classes in Bangalore
In today's global economy, being able to communicate in English is more important than ever before. Whether you're looking to advance your career or simply want to be able to communicate with people from all over the world, learning English can be a great investment. If you're based in Bangalore, there are plenty of options for English classes that can fit your needs and schedule. In this blog post, we at Indian Institute of Foreign Languages aim at providing best classes in career English, Advanced English and Business English classes in Bangalore, so you can start learning today!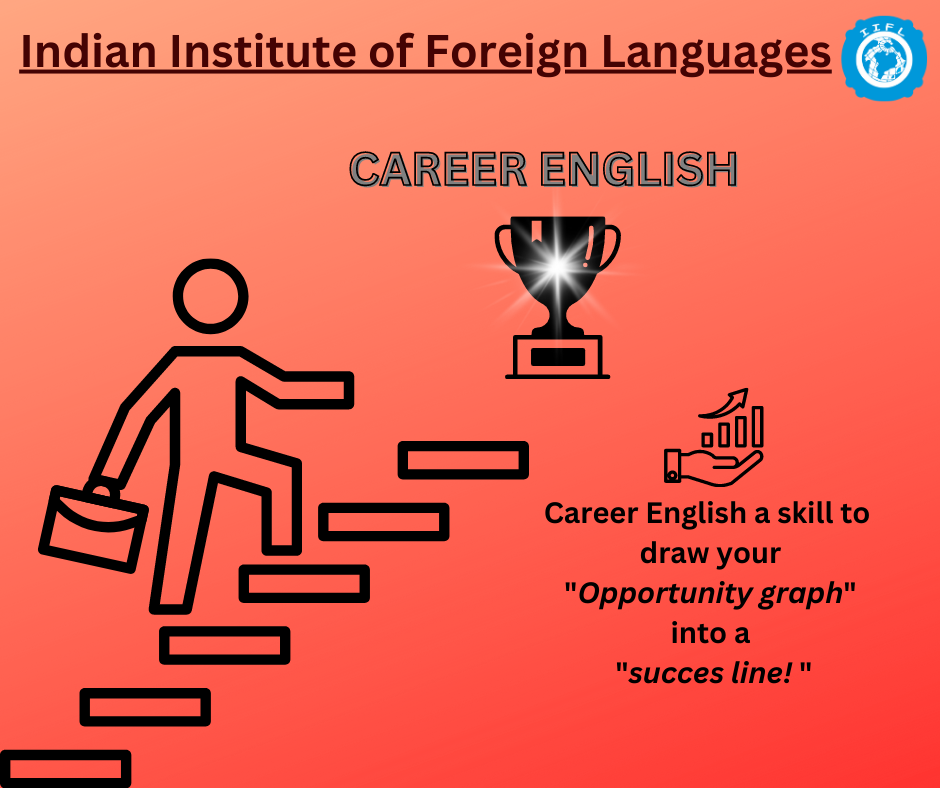 What is career English?
Career English classes are designed to help students learn the English language skills they need to succeed in their chosen field. The classes focus on developing both speaking and written English proficiency, as well as providing exposure to various industry-specific vocabulary. In addition, career English classes often include exercises and activities that simulate real-world work scenarios, allowing students to practice and hone their skills in a professional setting.
Whether you're looking to start your career in an English-speaking country or simply want to improve your chances of success in the job market, taking career English classes can be a wise investment. With the right course, you can develop the skills and confidence you need to communicate effectively in any business setting.
Hi All, We are glad to inform you that we have started Career English Classes in Marathahalli and Jayanagar, Bangalore as well. Please visit our website https://marathahalli.iifls.com of Marathalli Branch for more details. Please visit https://iifls.com/foreign-language-courses/ for Jayanagar Branch.
What are the benefits of taking career English classes?
There are many benefits of taking career English classes. One benefit is that you will improve your English language skills. This can be helpful if you want to pursue a career in an English-speaking country or if you need to use English for your job.
Another benefit is that you will learn about different aspects of the job application process, such as writing resumes and cover letters and interviewing effectively. You will also gain an understanding of workplace culture in English-speaking countries. This knowledge can be helpful whether you are looking for a job abroad or within your own country.
Career English classes can also help you develop other skills that are relevant to the workplace, such as problem-solving and time management. These skills can be useful in any type of job, and they can give you a competitive edge when applying for jobs.
Overall, taking career English classes can provide you with the skills and knowledge you need to pursue a successful career path.
Course Details for Career English is detailed here:-
Conversation Practice for business situation

Basics of communication, General English, advanced grammar, usage of synonyms and antonyms, usage of homonyms and homophones,  idioms and phrases  and common errors in English

 skills: punctuation, spelling and capitalization errors, writing advanced essays, precis writing, paragraph writing, correct usage of active and passive voice, concise writing (constructing clear and simple sentences and sentence fragments), using prepositional phrases and using the correct words

Presentation techniques: proper communication, formal presentation, writing the script, designing visual aids and hangouts, questioning and answering, how to reach the audience, tips on avoiding the fear and delivering effective presentations, tips on assembling and sequencing the ideas  and getting your message across successfully.

Accent neutralization: types of accent reduction and accent reduction training

Public speaking skills: developing confidence, how to speak to the real world?, speaking on special occasions, servant speaking tip (learning to listen and speak), addressing challenges (audience-serving communication), informative and persuasive speaking and how to frame proper introduction and conclusion

Interview skills: answering interview questions, discussion on topics common to all interviews and interview skills for managers

Telephone etiquette: making and receiving the phone calls, proper greeting, general rules for telephone etiquette and cell phone etiquette

Goal setting: benefits of goal setting, best practices and goal commitment etc.

Time Management: time management, reducing the wastage of time, stress handling and planning for efficient systems.

Group discussions: prerequisites and do's and don't s of a group discussion.
Conclusion
Overall, these classes in Bangalore can be extremely beneficial for those seeking to improve their language skills for professional purposes. The classes can help students learn new vocabulary and grammar rules, practice their speaking and pronunciation skills, and become more confident in using English in a work setting. If you're considering taking career English classes in Bangalore, be sure to research different schools and programs to find the one that best meets your needs and goals.