German language course in Bangalore
German language course in Bangalore: Are you looking for a German language course in Bangalore? There are many institutes/academies that offer courses for German, but how do you choose the right one for you? In this blog post, we will explore the different aspects you should look for when choosing a German language course in Bangalore. From the curriculum to the teaching methodologies, we will help you find a right level course at Indian Institute of Foreign Languages that will meet your needs and help you achieve your German language learning goals.
Learning German is a complicated task with tricky pronunciation and grammar rules.This article briefs about benefits of  learning German language and how Indian Institute of Foreign Language makes it differ from other academies!
The digital media is skyrocketing with millions of information on site, but what difference does it makes when you join our institute Indian Institute of Foreign Languages? It is surely the way of learning matters in learning! and Indian Institute of Foreign Languages offers the most comprehensive and affordable German language courses in Bangalore.
Here you can 
Learn quickly and easily

Understand grammar and sentence structure

Confidence in speaking German
German Conversation Classes
Conversation is the best way of learning German. These classes will help you become more confident in your speaking ability and also give you a chance to practice your listening skills and helps to build vocabulary. With a decade of experience in the field, we have well experienced trainers who instruct you in a different way and make the learning more interesting.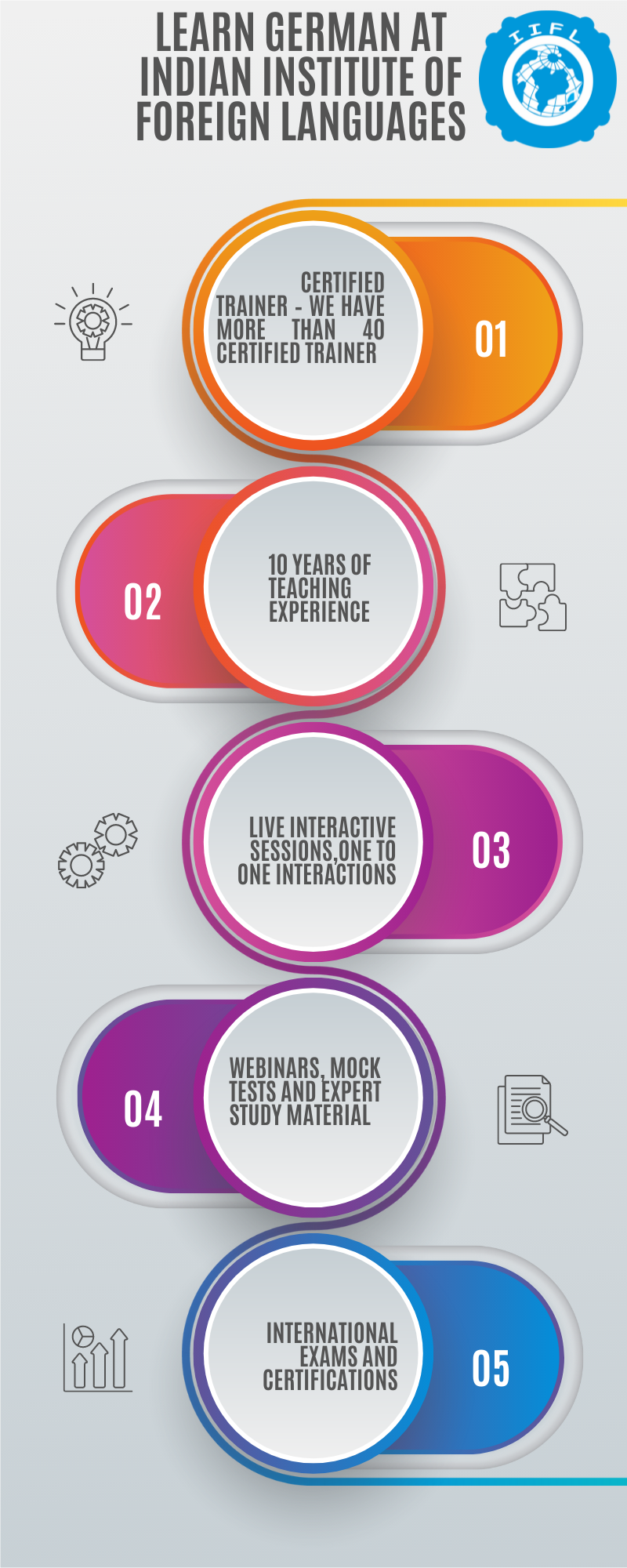 How do we offer the best German language course in Bangalore ?
Our courses are well designed to fit your needs. Whether you have a prior knowledge of German or not, our courses are designed to make it easy to learn for you!
    Certified trainer – We have more than 40 certified trainer

    10 years of teaching experience

    Live interactive sessions

    Mock exams are conducted

    Study materials from experts are provided

    Online classes are conducted to make it more convenient.

    International level exams are being introduced to get certified.

    One to one interaction with each student.

    Limited members of students per batch to enhance individual personalized attention.

  Free demo classes are conducted prior to the joining for the classes to know the methodology and effectiveness of teachings.

Webinars are conducted to give timely information about international exams, and other important messages are delivered.

Student feedback is received for modifications if any.

The course material is of high quality and is regularly updated.

We are providing 6 stages of learning as per the CEFR standards, A1 – Beginner, A2- Elementary, B1- Intermediate, B2-Upper- intermediate, C1- Advanced, C2- Master proficient.
German language course in Bangalore near me is no longer applied for searching Indian Institute of Foreign Languages! As we are providing online sessions with flexible hours at your comfort, learning German is no more location priority!
German offline classes in Bangalore are held at,
Banashankari  branch
Marathahalli branch
Jayanagar branch
Learn German in Bangalore
If you're looking for a place to learn German in Bangalore, you've come to the right place! We offer a variety of courses for all levels, from beginner to advanced. Whether you want to learn German for travel, work or personal enrichment, we have a course that's perfect for you. Our experienced and certified instructors will help you achieve your goals, and our small class sizes ensure that you get individualized attention. Plus, our convenient location makes it easy to get to and from class. So what are you waiting for? Learn German with us today!
German language course in Bangalore fees/price:
Depending on your level of proficiency, we offer German beginner level to master level as A1 to C2.
For beginners, it is advisable to enroll in a beginner's course that is A1 level which covers the basic grammar and vocabulary. Once you have completed the beginners' course, you can move on to the intermediate or advanced level. We are providing the best online German course with certificate and the fees structure is followed as,
A1- 60 hrs- 13,800/- for online classes, 18,800/- for offline classes
A2- 60 hrs-13,800/- for online classes, 18,800/- for offline classes
B1- 70 hrs- 18,800/-
The fees also include study materials.
Offers are available.
Is the German language compulsory to study?
German being a popular European language holds a lot of importance for various opportunities if you are looking forward to shifting to the west. Like admissions in German universities, for finding jobs, applying for visas, doing internships and part-time jobs. The returns are greater than the investment in learning a language. Our expert trainers build confidence in you to move forward to achieve your set goals. They have experience in training German language for corporates and MNCs.
Visit: https://iifls.com/german-classes-in-bangalore/
To get complete details about the course and its benefits.
Learning language and knowing culture is always an experience!
German classes near me
Are you looking for a place to learn German in Bangalore? There are many options available, but it can be tough to know which one is right for you. Here are some things to keep in mind when choosing a German class:
1. What is your level? If you're a beginner, you'll want to find a class that starts at the basics. If you're more advanced, make sure the class is challenging enough for you.
2. What is your schedule like? Some classes meet once a week, while others meet multiple times per week. Make sure you can commit to the class schedule before signing up.
3. What is your budget? Classes can range in price, so it's important to find one that fits within your budget.
4. What are your goals? Are you looking to learn conversational German or do you need to prepare for a specific exam? Make sure the class meets your needs.Once you've considered all of these factors, you should be able to narrow down your choices and find the perfect German class for you!