German Corporate Training in India
Advanced Techniques to Explore Business Dealings
Currently, India and Germany are acting as the leading partners in the field of development cooperation. Corporate organizations are designing training strategies in numerous ways to get the best outputs from employees. It is the dual system of vocational education and training that helps to design the training strategy.
 Over a couple of years, the 'living by doing' concept is gaining popularity. In this case, the vocational training is organized more in private industrial training centers.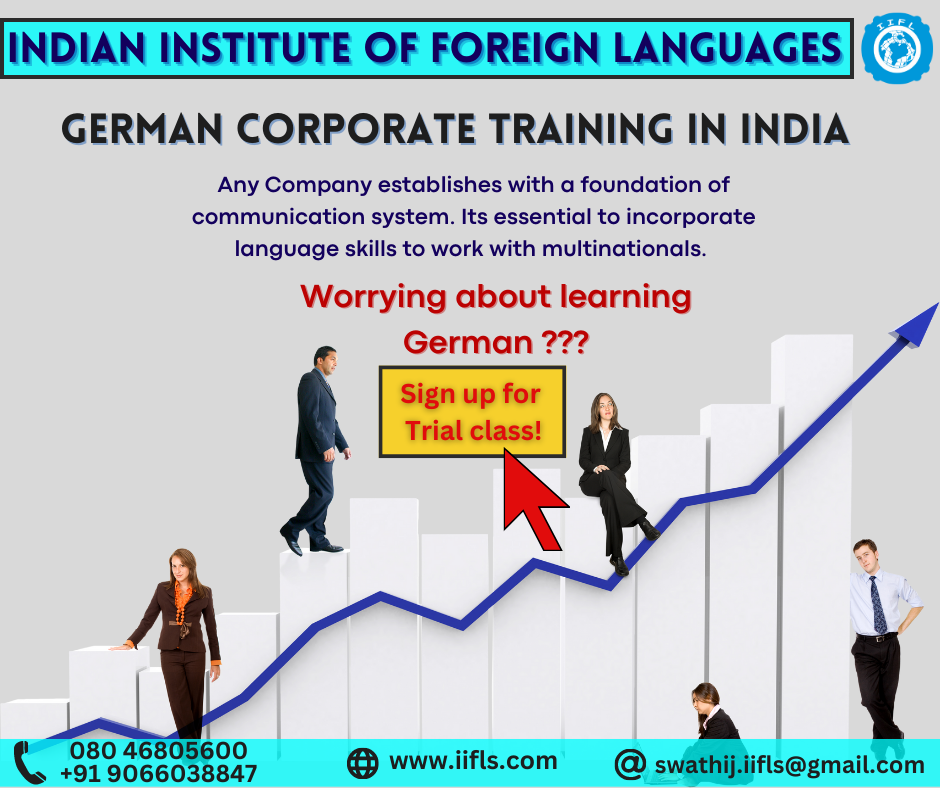 Training is More Effective
Do you think that dealing with a German corporate client is easy? Surely, German corporate training in India can make it more happening.
 The organizations who wish to develop business ties in Germany, handle German clients and business projects, sign new business deals and improve interaction with German colleagues are here to check all levels of corporate German pieces of training.
 Comprehending the organization's requirements, corporate organizations provide the exact training needs. To manage expenses, corporate bodies support employees to attend cost-effective German corporate training in India during working hours. Based on the current level of undertaking employees, corporate German mentors provide all levels of training including intermediate, basic, and advanced.
Providing German training to employees helps in improving language ability. To set the standard of effective learning and productive results, the companies can arrange training programs for employees to be fluent in the language, and persons dealing with German suppliers on a particular project.
What Can the Indian SMEs Learn?
The German corporate training in India is well known for SME participants. The training programme opens the door to knowing the tactics of doing business in Germany. In this training, the Indian managers and executives are exposed to the trends in investment and facilitating trade.
 By attending the corporate training, SME participants can exchange information with German dealers. The training programmes are best for Indian managers because they can strengthen social, professional, and intercultural competencies. Through this training platform, SME participants are open to developing excellent soft business skills and increasing business contacts.
The German language Training Methodologies
● The Virtual Classroom Teaching
 As a part of corporate training, speaking in German seems to be difficult and German language training is equally important. But the video conferencing system makes it easier. In the virtual classroom, online teachers can assist individuals with whiteboard training. To make the training more productive, the virtual experts shared documents and high-quality video sessions.
● Expert Training in the German Language
When enrolled in German training, the staff of the organization expects to build a solid foundation. As every employee expects to have a custom German training program, German tutors provide on-site instruction. To yield better results, students need to solve lessons comprising multimedia content. As students have to clear fluency certifications, they have to prepare well for cross-cultural communication.
● The German Corporate Training
German corporate training in India is well-known for providing fantastic teaching tools. It enables corporate companies to go along with the current corporate trends. So, to have exposure to German leadership trends, the TED talks are the best. It features fairly short talks in German and some informative videos.
The corporate pieces of training are extremely useful because the German tutors push learners to follow bite-sized lessons on social media channels. German speakers need to have a good understanding of industry news and keep a constant eye on social media discussions. Hence, most of the companies host German language programmes related to business cultural information.
Insights into German Training
Before enrolling in German corporate training in India, interested individuals like to check reviews on course programmes. To avail the best skill-based training, smart professionals incite into the reasons for the German programme.
 The pieces of training offer valuable teachings on levelling German reading, writing, and speaking skills. To encounter challenges, individuals need to practise writing. A serious mind can make it by working on the fill-in-the-blank exercises.
 Those who want to organize studying practices by downloading printable files can do it. It is worth saying that the training provides important reviews on useful materials.
Check the Immersive German Resources
Enrolling in the specific German training programme will help individuals to sharpen their language skills. To work as a pro, everyone has the flexibility to use different exercises such as audio, pictures, and videos. To support the excellence of individuals, the training guides are based on the general format of the Goethe exams.
 The training programme is designed to offer the necessary knowledge of everyday life. Hence, it is divided into chapters comprising grammar and vocabulary. Also, they do not forget to provide helpful answers to check.
 Participating in the corporate language pieces of training is becoming more common. To provide the best inputs in language training, companies need to strategize language planning carefully. Deciding the training targets and needs is of utmost importance. So, the language edit is conducted where experts advise including a few specifics such as deciding on group sizes. Also, they need advisable suggestions on writing skills and empower participants to develop good speaking skills in business meetings.
Make it Easy to Understand
Qualified German experts in corporate German training in India ensure an easy-to-understand language course. The objective of the training is to feature the similarities between German and English languages. Likewise, in both languages, individuals use Arabic numerals and the Latin alphabet.
It is true that learning German for business purposes is quite difficult. But unturning possibilities helps to find the way. In this case, German training helps corporates to manoeuvre business, strengthen business ties, and look at German business findings from global perspectives.
 As corporate professionals merely get time to update skills and know new things, German corporate training in India helps busy working individuals. Having a little knowledge of German knowledge can help to work locally and improve the level of understanding. To help colleagues, gaining knowledge of procedures, German vocabulary, and expressions are most important. As the German training is well designed, it will enable people to start learning German in a dynamic way.