German Language Certification
There are many language proficiency tests for German language such as STAMP German, Deutsches Sprachdiplom Stufe I and II, DSH, TELC, TestDaF, ZD, ZDfB, ZMP, ÖSD, and GDS, KDS, ZOP, A1,A2,B1,B2,C1,C2 levels in German offered by Goethe Institute. These German language proficiency certificates are internationally recognized. All the mentioned tests are based on CEFR (Common European Framework of Reference).
Apart from the above German language certification programs, there are some tests such as BULATS (Business Language Testing Service), a language proficiency test that is  used to measure the language skills of employees or new job applicants. This is also considered as one of the business tests.
There are few institutes like GLS (German Language School Berlin) which offers certification programs free of cost. But a point to note down is that this recognition in Berlin and few other places only and not worldwide. Click here for more information.
Its mandatory to acquire a suitable language proficiency certificate in German, If your goal is to apply for higher studies or for a job in Germany or Austria.
Every institutions have their own set of course materials and test patterns.
Hi All, We are glad to inform that we have started German Language Training in Marathahalli, Bangalore as well. Please visit our website https://marathahalli.iifls.com of Marathalli Branch for more details.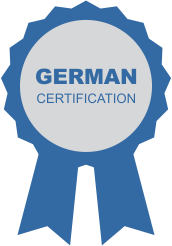 Some useful resources and websites to learn German language:
www.babbel.com/learn-german-online
www.loecsen.com/travel/0-en-67-2-1-free-lessons-german.html
www.bbc.co.uk/languages/german/
www.dw.com/en/learn-german/german-courses/s-2547
http://german.about.com/od/onlinecourses/a/An-Online-German-Course.htm
http://learn-german-easily.com/
http://www.deutschakademie.de/online-deutschkurs/english/
https://www.goethe.de/en/spr/ueb.html
www.deutsch-uni.com/gast/duo/info/index.do?do=index&lang=en
click here learn most of the German words and empower your knowledge of vocabulary.
We also provide expert level coaching for other language proficiency tests such as IELTS, GRE, PTE, French, Japanese and Spanish.
How Indian Institute of foreign languages helps you to prepare for GOETHE exam:
Helping solve previous test papers.
Mock tests

Listening
Reading
Writing
Speaking

Students who are looking for classes for exam preparation only, can also join.
For any queries and support feel free to write to us @ iiflbangalore@gmail.com or call us @ 906 603 8847.