German Classes in Rajajinagar: WHY LEARN GERMAN LANGUAGE ?
German Classes in Rajajinagar: Knowledge of a Foreign language is an added advantage for one's career growth. Now, after globalization, numerous German-based companies have emerged in India to expand their businesses People with German language proficiency can easily land up with a lucrative job in German based companies.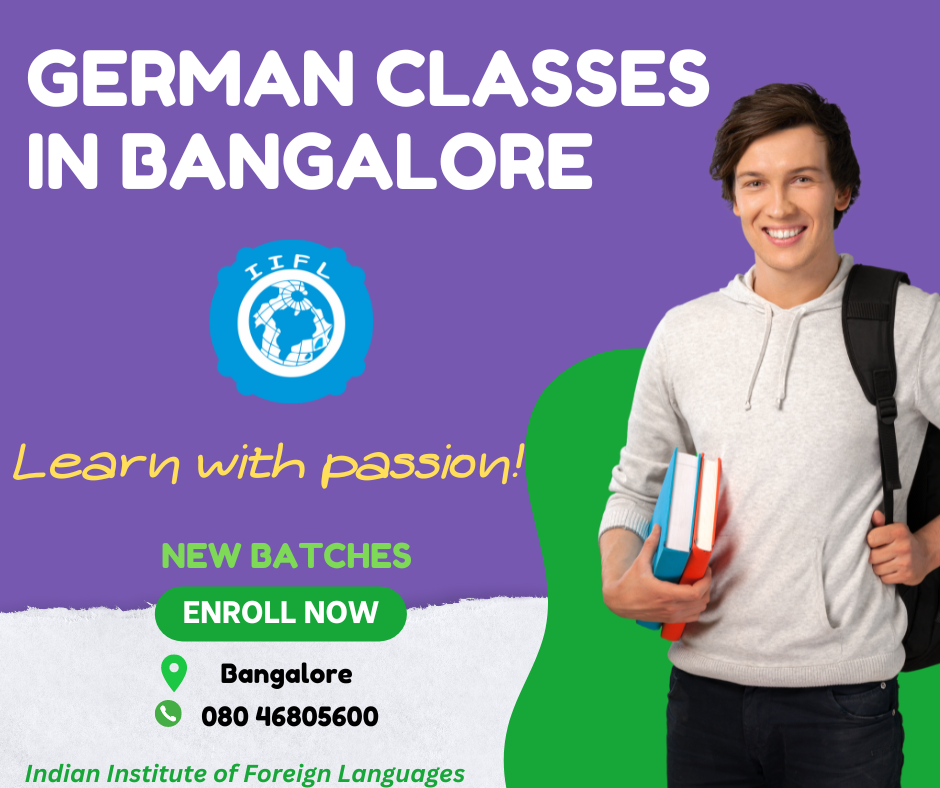 In addition to this, German language is not a difficult language to learn. German is widely spoken all over Europe apart from French and Spanish. Knowing German language is beneficial for tourists and businessmen for effective communication and negotiation with the natives.
An interesting fact is that many scientists and researchers are all from Germany and the government encourages and spends on scientific and technological R&D. Furthermore, great thinkers, poets, musicians such as Mozart, Beethoven, Bach etc., are all from Germany. More importantly, they have advanced rapidly in the field of science and also have been awarded with numerous Nobel prizes for the same. Therefore, Knowing German language to have knowledge about these great scientists, philosophers, and to listen to the musical compositions in German language.
There are numerous benefits for students who want to pursue their higher education in Germany. The reasons are many. Firstly, Germany is an affordable country to live as the cost of living is not too high in comparison with other European countries. Secondly, many universities offer master's degree program in English so that any international student need not know German language to apply for these courses. But, it is always good to know basic German language, at least elementary level which makes life more easier for students immigrating to Germany for studies. Students can also enrol in German language classes once they join their courses and learn this language simultaneously.
Number of subjects are offered here which can suit every student's needs. Students an avail admission in natural sciences, law, Medicine, engineering, Economics, arts and Music, Agriculture, and Computer science.
Apart from this, a student's life is easy and interesting as they can avail discount on tickets for bus, train, theatres, sports clubs, swimming pools, cinemas, and metros. Dormitories and university hostels are affordable as the rents are low. They get concessions on food, clothing and other basic amenities.
Students can explore the whole of Europe and get to know their culture. There are many tourists spots with historic importance. All in all, it's a very safe country to live.
Working professionals, students, corporate companies
LEARN GERMAN AT INDIAN INSTITUTE OF FOREIGN LANGUAGES
Indian institute of Foreign Languages provides German Language classes to working professionals, students, corporate companies, and Education institutes.
A good news is that Indian Institute of Foreign Languages has expanded itself coming up with its new branch at Rajajinagar. The institute is in the prime location, which is easily accessible.
GERMAN LANGUAGE COURSES – 6 LEVELS
The course consists of six levels to learn German Language: A1, A2, AB1, B2. C1, C2 levels. These levels are prescribed by Common European Frame work (CEFR).
The trainers are highly dedicated and committed which is our greatest strength.. Flexible timings, quality training are positive aspects to consider for any student to undergo training at Indian Institute of Foreign Languages.
The German language courses at Indian Institute of Foreign languages are affordable too. The instate helps students who aspire to pursue their higher education in Germany, as these courses will definitely help the students to learn the language before immigrating to Germany since they expect knowledge of elementary level of German language.
GERMAN LANGUAGE SYLLABUS
The syllabus is prescribed by Common European Framework for Reference languages for all the six levels. Exams are conducted for all the six levels and certificates are issued for the same called as "Goethe-Zertifikat. These exam  certificates are valid through out life.