IELTS Classes Bangalore
IELTS Classes Bangalore: IELTS – International English Language Testing System . IELTS exam is designed to test the language ability of candidates who want to work or study where English is the language of communication.
IDP Australia and University of Cambridge ESOL Examination (Cambridge ESOL ) Jointly manage the IELTS  Examination .
For IELTS Online Classes click here
IELTS score is recognized in Australia, Canada, New Zealand, the UK, the USA . It is recognized by many universities across the globe . It is also recognized by government agencies and professional bodies.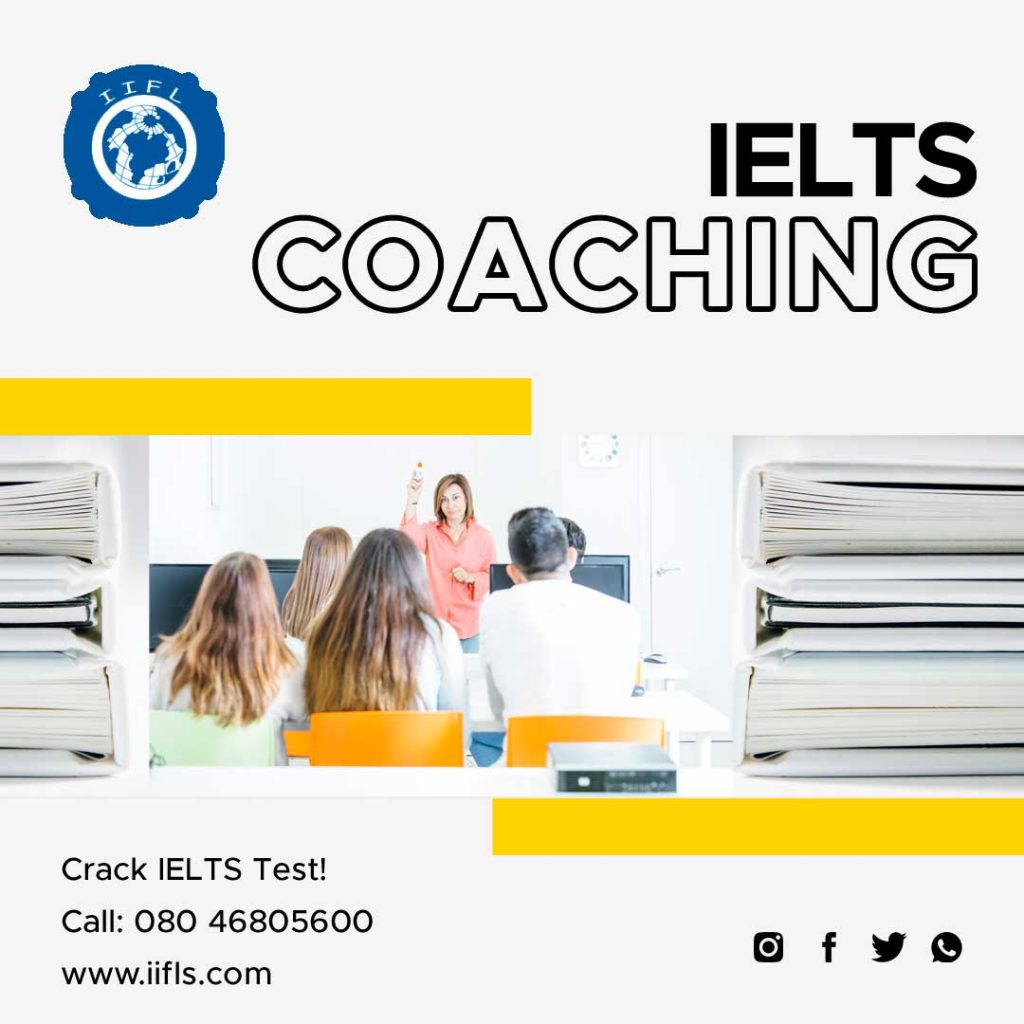 IELTS Coaching in Bangalore – IELTS  Classes Test Module .
Both general and academic modules have four different modules
Listening
Reading
Writing
Speaking
[divider] [space height="20″]
Hi All, We are glad to inform that we have started IELTS Classes in Marathahalli, Jayanagar and Rajajinagar Bangalore as well. Please visit our website https://marathahalli.iifls.com of Marathalli Branch for more details. Please visit https://iifls.com/foreign-language-courses/ for Jayanagar Branch. We have also have a IELTS Coaching Centre at Rajajinagar Bangalore
[divider] [space height="20″]
IELTS Test Module
IELTS Classes Bangalore – IELTS Course Duration : 40 Hours
Reading:10 Hours
Writing :10 Hours
Speaking:10 Hours
Listening:10 Hours
Our IELTS classes also include solving previous year test papers that helps you test your preparation level for the exam.  We also conduct frequent test during the course period.
For Course Details :Contact 906 603 8847
IELTS test preparation Bangalore 
IELTS evaluates the language capability of individuals who need to work or study where English is a dialect of correspondence. In a way, IELTS can be called as a gateway to English speaking countries like USA, Canada, UK, Australia and New Zealand. The IELTS exam comprises of a nine-band scale to recognize levels of capability, from band score 1 (non-user) to band score 9 (expert). The four areas where the IELTS, check the compatibility of individuals are: Speaking, Listening, Writing and Reading.
There is NO benchmark of minimum passing marks needed in the IELTS exam. An IELTS Test Report Form is provided to all the candidates who had taken up the test. The scores are allotted between band score of 1 to 9, where a score of 1 refers to non-user while a score 9 refers to expert. The colleges / universities / institutions across the English speaking countries lay down their own specific benchmark for the admission criteria. For example, most of the colleges and universities in Canada set a threshold of minimum overall band score of 6.5 and individual band score of 6.0 in each of the 4 sections (Listening, Reading, Writing & Speaking). For those who are not able to attend the test, a band score of '0' is given. Additionally, Institutions do not consider a IELTS score, which is older than two years, as applicable.

IELTS exam can be given in two formats:
Academic – Academic IELTS is meant for individuals who wish to apply for advanced education or professional registration. This format checks the individual's compatibility in certain aspects of academic language and gauges if he or she is prepared to study or train. This format of IELTS is broadly accepted by the schools / colleges / universities across the countries that recognise IELTS.
General Training – General Training IELTS is meant for those moving to various English speaking countries (like USA, Canada, Australia, New Zealand, UK etc), for reasons like applying for secondary education, working on projects and involvement in an English-speaking milieu. Additionally, IELTS General Training is prerequisite for migration to the above mentioned English speaking nations. The test centres on essential survival skills in wide social and professional perspectives.
Both the above adaptations give a legitimate and precise evaluation of the four facets of language aptitudes: Listening, Reading, Writing & Speaking. The main distinction between the General Training and Academic formats of IELTS is the objective and content of the Reading and Writing sections, though the Speaking and Listening sections for both the formats are similar. The remaining characteristics like time allotted for each section, length of written answers and assigning of scores remain unchanged.
IELTS General Training and Academic both consist of following traits:
Both the formats of IELTS tests the capabilities to write, read, listen and speak in English.
The speaking section is accomplished as a one-to-one interview with an examiner. The examiner examines the candidate while he or she is speaking. Moreover, the speaking section is recorded for supervising and for re-evaluation if the candidate decides to plead against the bands he scored.
In Listening Section of IELTS, a variety of intonations (British, New Zealander, Australian, Canadian and American) are kept in test materials to reduce linguistic partiality.
Contact us now for details about IELTS Classes Bangalore
IELTS FAQs (Frequently asked questions)
[accordion] [acc_item title="1. What is IELTS ?"]IELTS- International English Language Testing System is the most popular English language proficiency test for higher education and immigration.[/acc_item] [acc_item title="2. Who can take this exam?"]Anyone with a minimum age of 16 years and more with a valid passport can take this exam.
Students planning to study in countries such as UK/ Australia/ Canada/ Newzealand/ USA and also professionals who prefer to work there are eligible to take the exam.[/acc_item] [acc_item title="3. What is the difference between British Council & IDP?"]There is no difference between the IELTS test at the British Council and IDP. Both IDP and the British Council are owners of IELTS with Cambridge English language Assessment. All the three are joint owners of IELTS. The examiners and the marking are similar, both at IDP and the British Council.[/acc_item] [acc_item title="4. Difference between IELTS Academic & IELTS General?"]Well, it depends on the reason for taking up IELTS test. If the purpose is to get admission in an English-speaking university, or for professional registration, the one needs take IELTS Academic test. If the reason is migration, one should take IELTS General Test.[/acc_item] [acc_item title="5. Differentiate between IELTS & UKVI"]There is no much difference between these two. However, certain factors differentiate them from each other. They both have exactly the same options. However, they involve different anti-fraud measures at the location centers.
The UKVI test has to meet certain administrative requirements which are specifically for individuals who wish to study, work or live in United kingdom whereas in case if IELTS (Academic and General), you have to make sure that you sit for the exam at a center authorized by British Home office.
The cost of UKVI test is slightly higher than the standard UKVI test.
The IELTS tests for U.K visas and immigrations are managed by the IELTS SELT Consortium which includes the British Council, IDP, IELTS Australia and Cambridge English language Assessment.[/acc_item] [acc_item title="6. All the sections (Listening, Reading, Writing and Speaking) will be on same day?"]The three sections such as listening, reading, and Writing tests are conducted on the same day without any breaks in between these tests. However, the Speaking test is conducted a week before these tests or after a week of these tests.[/acc_item] [acc_item title="7. What is the duration of each module?"]The duration of Reading & writing is one hour each and the duration allotted to the Listening test is 45 minutes. So, altogether, the duration for these three modules is 2 hours and 45 minutes. The duration for speaking test lasts for 11- 15 minutes.[/acc_item] [acc_item title="8. How much IELTS exam will cost me?"]
The IELTS test fees for Academic and General Training-paper based test is INR 13,250.
The IELTS test fees for Academic and General Training-computer delivered test is INR 13,250
The IELTS test fees for UK Visas and Immigration (academic and General) is INR 18, 500.
[/acc_item] [acc_item title="9. What is the minimum & maximum Score?"]The minimum required band score in all the modules is 6 to prove the efficiency whereas the maximum is Band 9. However, the minimum Band score vary depending on the candidate's language skills.[/acc_item] [acc_item title="10. Which are the countries accepts IELTS?"]Countries such as United Kingdom, Australia, New Zealand, USA and Canada accept IELTS. It is accepted worldwide including countries such as Germany and France by more than 9000 institutions, and many universities. However, each country has its own IELTS requirements.[/acc_item] [acc_item title="11. Are there any limits to appear for IELTS exam?"]
The eligibility criteria for taking the IELTS exam:
The minimum age to take the IELTS exam should be at least 16 years of age and should have a valid passport. If you are planning to study in UK/Australia/Canada/New Zealand/ USA, you can appear for IELTS exam.
There is no limit on re-appearing for the IELTS exam. The validity is 2 years and once it expires, you have to retake the IELTS exam.
[/acc_item] [acc_item title="12. Can I cancel or retake my IELTS exam?"]Yes. You can cancel or postpone the IELTS exam five weeks before the test is conducted. If you postpone or transfer the test date more than five weeks of the test date, you will receive the refund after deduction of cancellation or postponement fee. There is no limit for retaking the IELTS exam. You can appear as many times as you want. But it is advisable to keep at least 2 months gap or more from the tests taken.[/acc_item] [acc_item title="13. How many days it take to get the results?"]IELTS results are available after 13 days if it is a paper based test. Your results are delivered in TRF, Test Report Form. If you take computer-delivered IELTS, there are more test dates available, test takers can choose IELTS at a time convenient for them, and they will receive their results in 5 to 7 days. At some test centers, even SMS alerts are available and one can view their results online too before receiving TRF. The test preview is available after the test results are declared and is available till 28 days after the test date. This is provisional.[/acc_item] [acc_item title="14. If I am not happy with my score and I want to apply for revaluation, how to go with it?"]If you are not happy with your test scores and intend to apply for revaluation, you can submit your application at your test centre within six weeks of the test date. This is referred as "Enquiry on Results"
A nominal fee is charged as an enquiry fee and it will be refunded if your band score changes.[/acc_item] [acc_item title="15. Is it required to take IELTS training?"]Coaching is not mandatory and all that necessary. If a candidate understands the pattern and is able to follow it, he/she can do it on their own without any coaching.[/acc_item] [acc_item title="16. How IELTS helps a student if he/she is applying for university abroad?"]IELTS test results are accepted worldwide by most of the universities and all the universities  and colleges of UK . Tier 4 student visa applicants can apply to UK with IELTS test results. If you are considering an undergraduate or a post graduate degree program, you should take IELTS Academic test, IELTS General test is sufficient if you do not intend to study there and pursue higher studies. Thus IELTS helps a student if he/she is appling for university abroad.[/acc_item] [/accordion]