Career Opportunities after learning Foreign Language
Indian economy is the world's fifth largest economy, whose nominal GDP $2.94 trillion. It is one among the largest importer and exporter in the world. Due to globalization several multinational companies has set up their businesses in India and they are looking for individuals who are fluent in different foreign languages, which increases the job opportunities in India and abroad.
Learning a foreign language will help you in many aspects of your life, either it can be in professional life or in your personal life like social status or for travel and tourism. Career requirement is one of the motivating factors for the individual to learn foreign language. Following are the job opportunities for foreign language.
Translator
Interpreter
Proof Reader
H R / Recruiter
Tutor
Jobs in Embassy
Job openings in BPO & KPO
Teacher / Faculty in Schools & Colleges
Tourist Guide
YouTuber / Blogger
Content Writer
Corporate Trainer
Jobs in International Companies
Teaching Abroad as a Linguistic Teacher
International Sales Manager
[divider scroll_text="SCROLL_TEXT"]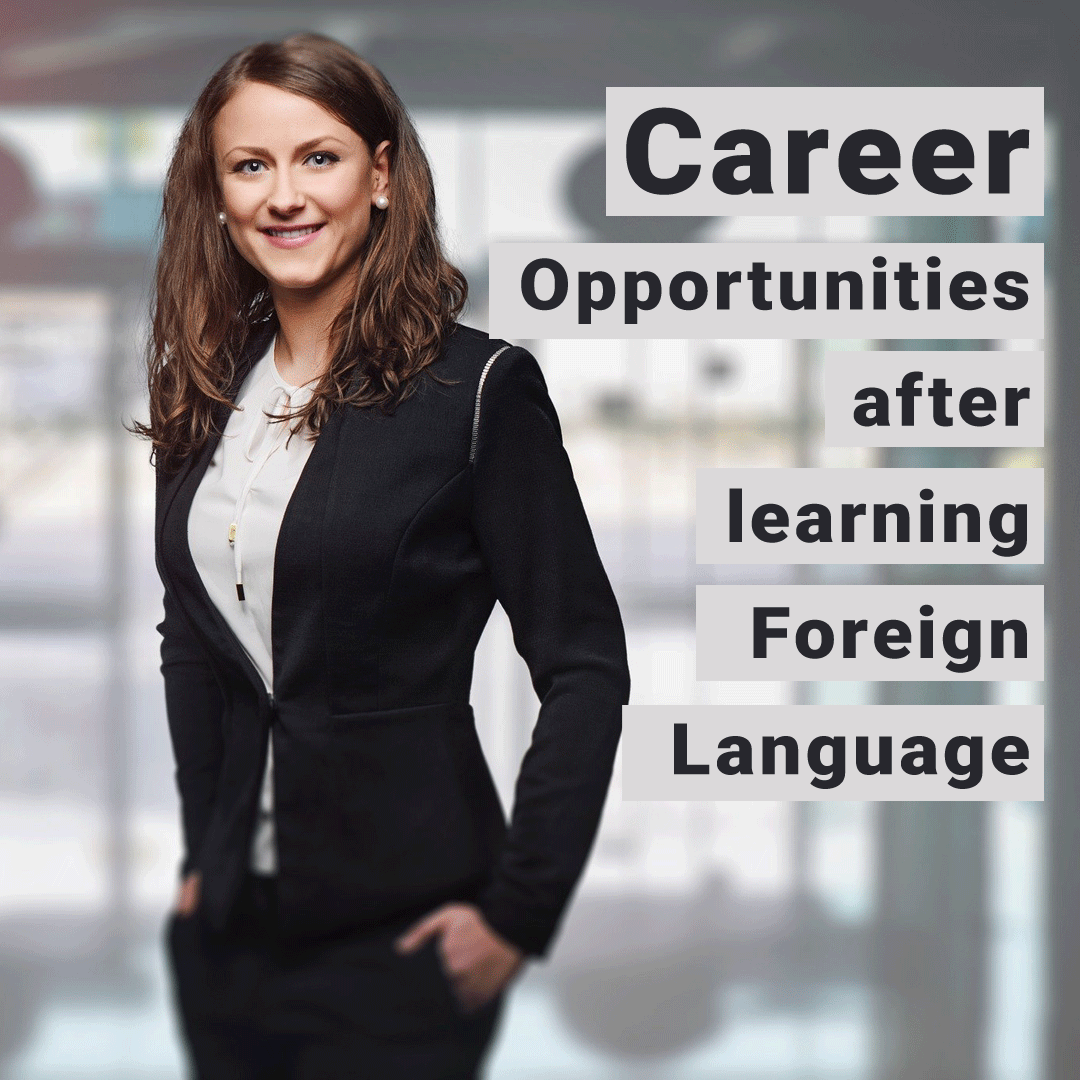 Translator: Translation means converting words from one language to another language. Let's assume you are a multi lingual speaker where in you know more than two languages like English and German, with the help of your language skills you can translate the text from English to German or vice versa. The translation job can be done from anywhere, being at home as a freelancer or working as full time translator for reputed companies. There is always high demand for translators and they are paid pretty well.
Interpreter: An interpreter job is to translate speech verbally or through expressions. To become an interpreter an individual needs to be strong in both the languages. As many multinational companies entering India, there are lot more opportunities for interpreters to do the interpretation job.
Proof Reader: Now a day's company hire individuals for proof reading job where in their work is to check the accuracy of language, grammar, spelling and so on, it is to make sure that the text has to be error free.
H R / Recruiter: Every company has human resource department, their job is to recruit, orient and train the employees of an organization. If a company is dealing with international clients then the recruiter job is to recruit someone who knows foreign language. To test the language skills of a candidate the HR personnel should know any one foreign language. Therefore if an individual has a language skills there are many job openings in HR department so it is an added advantage to learn a foreign language.
Tutor: An individual who has teaching skills can be a tutor for foreign language. Many people from India go to different foreign countries either to study or for work purpose. Those individual will be looking for tutors who can teach them foreign language so that it will be easy for them to communicate and survive in foreign countries.
Corporate Trainer: It is very difficult to hire candidates with good technical background plus foreign language skills, in this situation company hire candidates who have good subject knowledge and later they provide in house training for the employees on foreign language. In this scenario corporate trainer comes to an existence. Corporate trainer job is to train the employees on foreign language. To be a corporate trainer an individual should have very good foreign language skills.
Teaching Abroad as a Linguistic Teacher: If you are looking for a teaching job in foreign countries, you have to be a multi lingual. Many countries are hiring individual for different foreign languages. You can travel different countries and earn for you living by being an linguistic teacher. Language teachers are paid very well in different countries.
International Sales Manager: Many European countries are looking for bilateral cooperation with India. If you have a good marketing skills, negotiation skills and with that if you know foreign language then there are plenty of international sales jobs are available. You can travel different countries and for these jobs handsome salaries are paid.
Jobs in Embassy: There are many job openings in embassy as a tele-caller, administrator, front desk executive and many more. Embassy hires to those who have specified qualification and language skills and they really pay well.
Job openings in BPO & KPO: Due to globalization there are many companies whose business entities are located all over the world. These companies are looking for candidates who have multi lingual language skills.
Teacher / Faculty in Schools & Colleges: Now a days to be on par with global requirements education department has to introduced foreign language in the course curriculum. Every schools and colleges has opening for foreign language teacher / faculty. An individual with good communication skills in English and even in any foreign language (intermediate level) can be a faculty at schools and colleges.
Tourist Guide: India is booming in tourism sector. We have rich heritage and cultural background. To know our culture many tourist come to India. There are many tourist guides dedicatedly for foreigners; to break the language barrier these guides have learnt foreign language. Still there is huge demand for tourist guide.
YouTuber / Blogger: Blogging and being a YouTuber is not an easy task. Any person who has extra ordinary writing skills can be a blogger. When it comes to be a YouTuber you should not be a camera shy. People make many by writing blogs on different topics in foreign language. If you want to be a YouTuber you can have your own channel and start making videos on learn foreign language, there are plenty of people who learn language online, you can make money by creating videos on YouTube.
Content Writer: There is a huge demand for content writing in MNC's. A best content writer is someone who has creative thinking and good writing skills. If you have knowledge of foreign language then you can do content writing job for MNC's.