What is Business English?
Introduction
This article is about What is business English and the best Business English Classes In Bangalore. The author talks about how these classes help build your language skills, and that it's a great way to practice speaking or understanding English in an international setting.
Whether you are a student, professional, or a business owner, learning English can be extremely beneficial. Not only is English the most widely spoken language in the world, but it is also the language of business and international relations. If you want to improve your English skills for personal or professional reasons, taking a Business English class is a great way to do so.
There are many different schools and institutes that offer Business English classes in Bangalore. To help you find the best one for your needs, consider factors such as cost, location, curriculum, and teacher experience when making our choices.
So whether you are looking for an intensive course to help you ace your next job interview or simply want to brush up on your business vocabulary, Indian Institute of Foreign Languages is one the best Language training institute in Bangalore, training business English.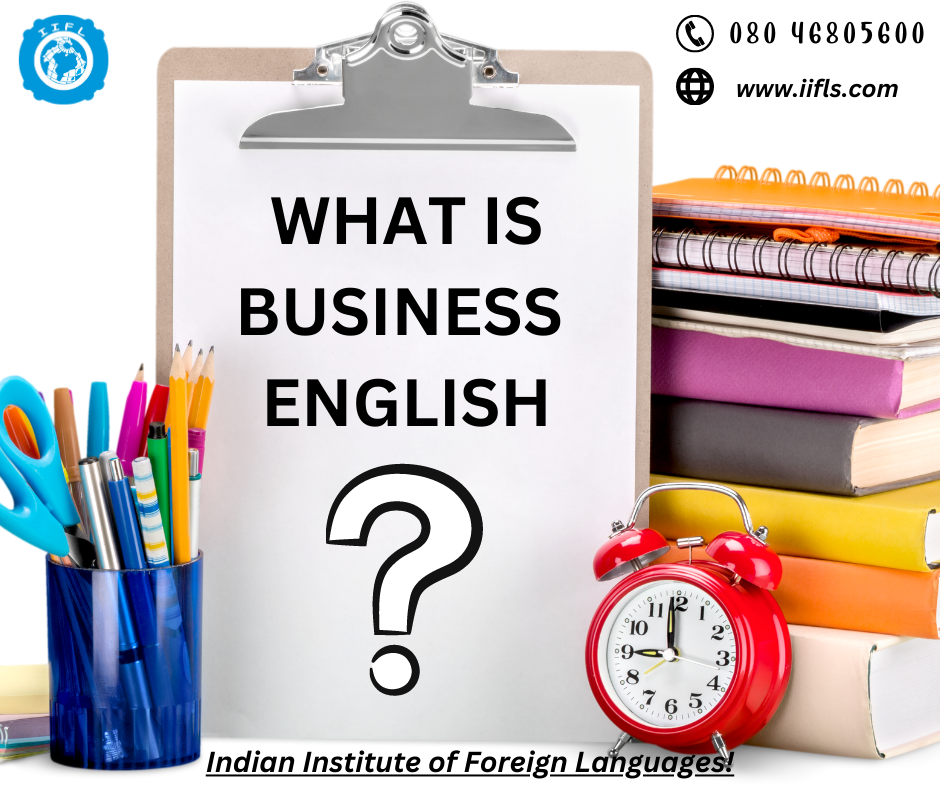 What is Business English?
Business English is the form of English used in business contexts, such as in the workplace or when conducting business transactions. It is a subset of English that has been customized for business purposes and includes vocabulary, terms, and expressions that are specific to the world of work. While Business English is similar to standard English in many ways, there are some key differences that set it apart. For one, Business English is typically more formal than regular English. It also tends to use more specific vocabulary related to business concepts and Jargon. If you're looking to improve your Business English skills, there are many great classes available in Bangalore. Indian Institute of Foreign Languages is one among them provide expert business English training.
Why learn Business English?
There are many reasons to learn Business English. It can help you get ahead in your career, make international business deals, and better understand colleagues from other cultures. In today's global economy, English is the language of business. If you want to be successful in business, it's essential that you have a good command of English. Even if you're not planning on working internationally, learning Business English can still be beneficial. It will make you more marketable to employers and help you stand out from the competition. If you're based in Bangalore, there are plenty of options for Business English classes. Indian Institute of Foreign languages is the best institute in training business English with expert trainers.
How do you speak business English?
If you're looking to improve your business English skills, Bangalore is the perfect place to do it. There are a number of excellent business English classes available in the city, all of which can help you to communicate more effectively in a professional setting. Whether you're a complete beginner or already have some knowledge of business English, there's a class to suit your needs. Many classes focus on specific aspects of the language, such as writing emails or giving presentations, so you can choose the one that's most relevant to your needs. Class sizes are usually small, so you'll get plenty of individual attention from your teacher. And with flexible scheduling, you can easily fit a class into your busy work schedule. So what are you waiting for? Get started on your journey to better business English today!
 What is the best level for me?
If you are looking for the best Business English classes in Bangalore, there are a few things you should consider. First, what level of English do you need? There are many different levels of Business English, from beginners to advanced. You should also consider your budget and schedule. There are many schools that offer Business English classes in Bangalore. However, not all schools are created equal. Some schools may be more expensive than others, but offer better quality classes. It is important to do your research to find the right school for you. Once you have decided on a school, the next step is to decide which level of class is right for you. If you are a beginner, it is probably best to start with a lower level class. This way, you can gradually work your way up to more difficult material. If you already have some experience with English, you may want to start at a higher level class. The most important thing is to choose a level that is comfortable for you. Do not try to push yourself too hard or too fast. Learning should be enjoyable, so find a level that suits your needs and stick with it!
Conclusion
Choosing the right business English class in Bangalore can be a daunting task, but it is one that is well worth the effort. With so many options available, it is important to take the time to find a class that best suits your needs. We hope that our list of the best business English classes in Bangalore has helped you narrow down your search and find the perfect class for you.