Foreign Languages Training Institute Bangalore
We are a training institute in Bangalore that takes pride in teaching foreign languages such as French, German, Japanese, and Spanish. We also offer tailor-made courses in English to improve fluency, with levels starting from basic, advanced, and Career/Business as per your requirement. Guidance and training for English competitive exams like GRE, TOEFL, IELTS (academic and general), and PTE are also provided. In addition, we help develop personality through soft skills training. We hire Experienced Teachers / Faculties and industry experts in order to ensure international training standards. Our Motto is to provide the best coaching. Hence we provide tailored courses for all types of students, whether beginner level or expert level. Our courses range from crash course to long term courses. The classes are accompanied by authentic course materials, live examples, audios, videos, discussion, case studies, group study, practice test, and interactive study tasks. We are not just limited to training but also help you for exam preparation and better scoring. Indian Institute of Foreign Languages is the best and experienced institute for training foreign-languages-training-institute-bangalore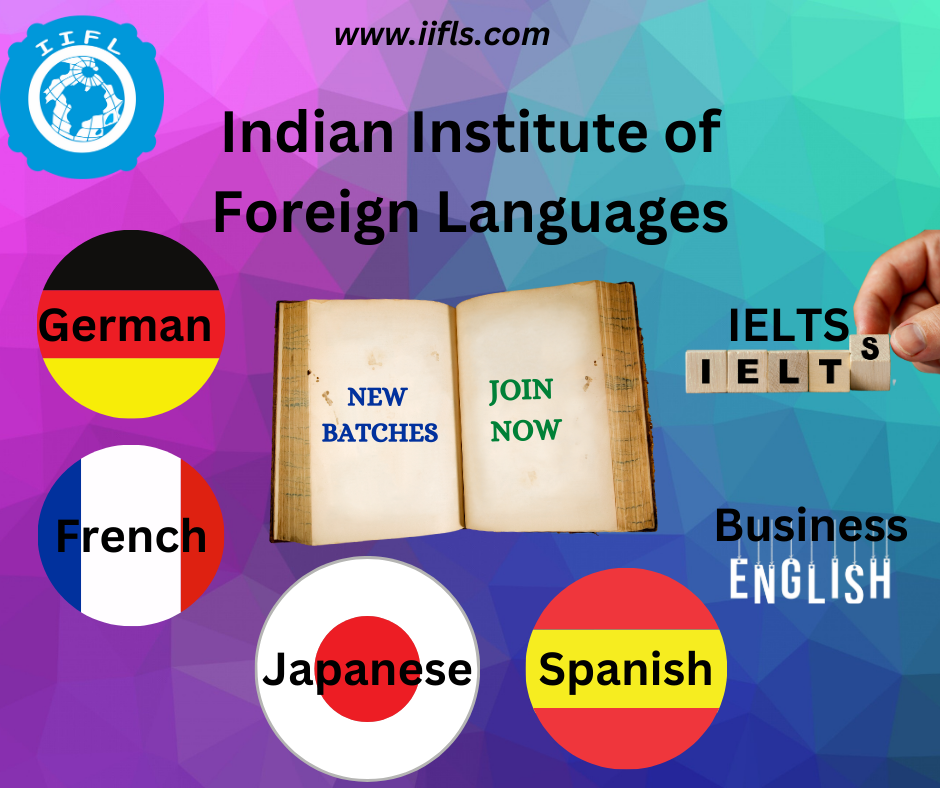 Foreign Languages Training Institute Bangalore have following certification programs
German Exam Certification
Guten Tag!
Students, who wish to pursue their studies in Germany, will require a German language certification as per CEFR, to get admission into their universities; our training program helps the students, to prepare for the German exam conducted by Goethe Institute (as per CEFR guidelines).
We provide training for basic level (A1 & A2), intermediate level (B1 & B2), advanced level (C1 & C2).
Many students find it difficult to clear the German exam conducted by Goethe Institute: our training program is tailor-made and customized with respect to the exam pattern followed by Goethe Institute.
We have a verifiable track record of students securing good grades in the German A1 & A2 exams.
French Language Certification 
A person who wishes to travel to France with the perspective of a job, leisure travel or business trip, should know the bare minimum amount of French, learning French is an added advantage if migrating to Canada is on your mind, as it will fetch more points on the Express Entry System recently launched by the Canadian Government.
Being a foreign languages training institute in Bangalore, we offer training for basic level (A1 & A2), intermediate level (B1 & B2), advanced level (C1 & C2). Upon completion of these levels, you can easily communicate with people and lead your day to day life without any hassles.
Our certified French trainers have a rich experience in teaching.
Japanese Language Certification (Japanese Language proficiency test –JLPT)
Japanese Language proficiency test is conducted twice a year.
Our training program helps you to clear Japanese Language Proficiency Test (JLPT).
We provide training for all levels: N1, N2, N3, N4, and N5.
You can join here for the above levels and get a lot of benefits from our institute.
The trainers with us are excellent and expert in training Japanese. You can speak Japanese in a short period of time.
Spanish Language Certification
Today Spanish Language is also a language in demand. You can build your career through Spanish language as well.
We offer training for all levels such as A1, A2, B1, B2, C1, and C2 levels.
Our Spanish language trainers are certified and are well experienced.
If you are looking for a Business English Training Institute in Bangalore, Indian Institute of Foreign Languages is an excellent Institute for you. Because after completing this course you can appear for the exam conducted by Cambridge University.
Our institute provides training for all levels such as Business Preliminary (BEC Preliminary), Business Vantage (BEC Vantage), and Business Higher (BEC Higher).
Our Business English teachers all are professionally certified and have outstanding knowledge; they will teach you to apply for various certification tests.
We offer two modules- General and Academic. These two modules have four different levels. They are Listening, Reading, Writing, and Speaking. Our excellent trainers will teach you all the above modules and levels.
Our study material also includes previous year's test papers that help you test your preparation level for the exam.  We also conduct frequent tests during the course period.
 Spoken English Classes
If you are weak in English and don't have good fluency in English, don't worry. We can help you learn English. Just join us at Indian Institute of Foreign Languages and have your dreams come true.
Our qualified trainers will give you the best tips and advice to develop your spoken English skills. They will teach you a lot of examples. At the end of the course, you will be capable of speaking English fluently.
Indian Institute of Foreign Languages offers a one shop stop for all your foreign language needs. Learning foreign-languages  at foreign-languages -training-institute-Bangalore is beneficial.