Online German Classes
Online German classes: Students are opting for online German classes since COVID-19 offline classes will commence after few months, We are offering online German classes, Its good news for the students community because students who are looking for German classes online can join our classes. It is good news because students from different cities within India like Delhi, Mumbai, Pune, Chennai, and Hyderabad can join our classes. Our institute offers best tutors for online classes, Fee for online classes is also affordable, If you are looking for best institute for German online classes or offline classes you arrived to right place. Please login to our portal to check offers, watch demo classes, and Join free webinars.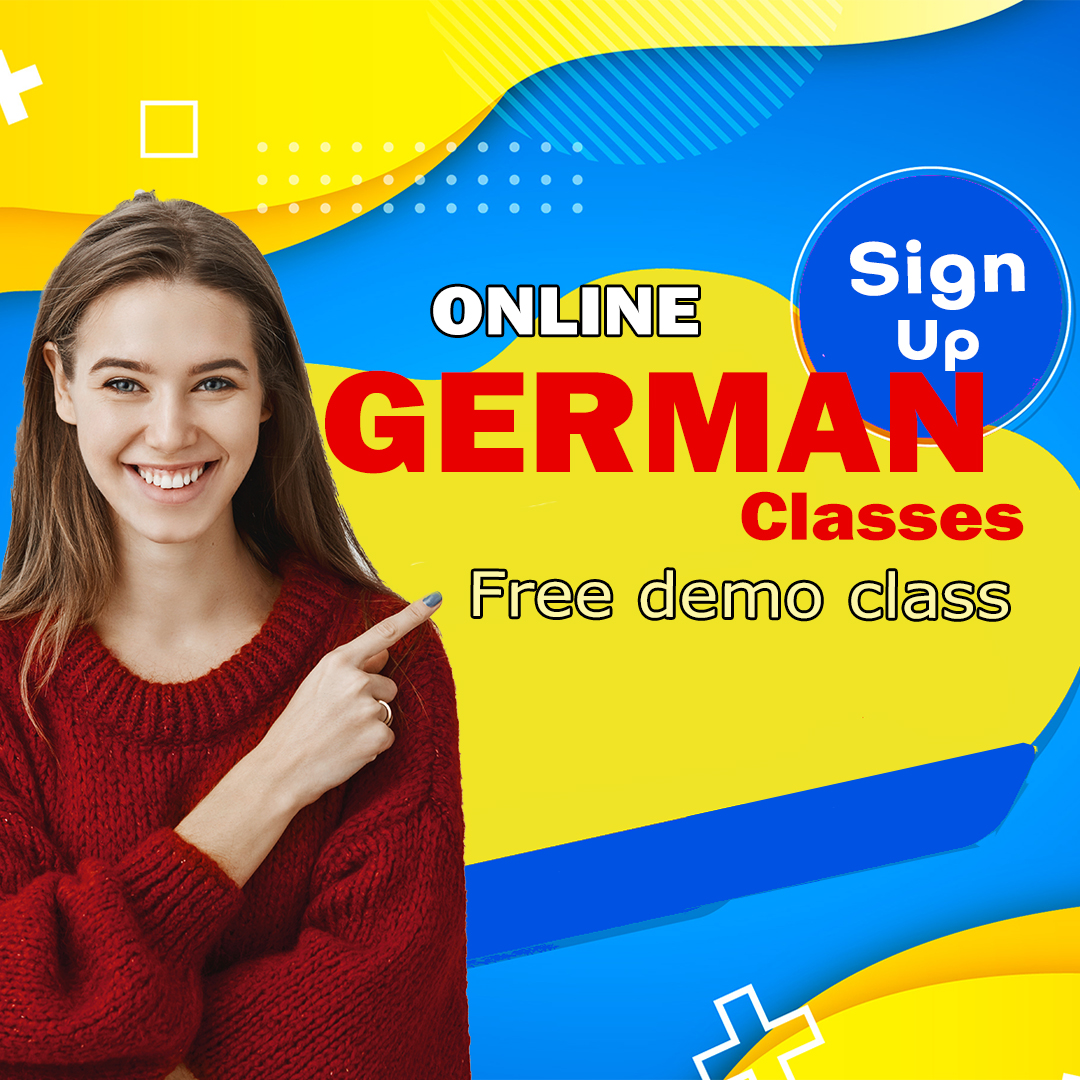 Online German classes are effective due to advancement of technology and tele communication revolution in India. Students in remote part the country also learn German language.
Requirements for online German online classes
1. Android mobile phone/Computer/laptop/Tablet
2. Good internet connection
3. Head phone with mic
Online classes advantages
1. Learn from your place :online classes can be attended from any part of world so need not to travel to institute for classes
2. Time : In cities like Bangalore, Travelling consumes lot time due to traffic so travelling time can be saved , If you are opting for online classes you can invest the travelling time in learning language
3. Price :Students who in Germany can attend classes from India it saves lot money
4. Flexibility of batch timings: some online classes will be in early morning or late evening, if you are working professional you can choose classes fits into your schedule.
Course details and Fee structure:
German Levels
Course Fee (Inclusive of Taxes)
Duration
Study Materials
Modules Covered
German A1 Level
INR.12800/-
60 Hours
Course Book, Work Book, Dictionary, Basic grammar book, Audio CD's(Included in the fee)
Reading, Writing, Listening, Speaking
German A2 Level
INR.12800/-
60 Hours
German B1 Level
INR.15800/-
70 Hours
German B2 Level
INR.28800/-
100 Hours
Certification: Course Completion certificate will be issued from our institute.
International Exam preparation: We do prepare you for International certification exams.
Internal Exams: One mock test will be conducted at the end of the course.
German language Offer:
Offer
Descriptions
Actual Price INR
Discount Price INR
Silver Package
German A1 & Germany Admission Services, 6 Applications
34,800
28,599
Gold Package
German A1 & Germany Admission Services, Upto 12 Applications
40,800
34,600
Diamond Package
German A1 & Germany Admission Services, Unlimited Applications
57,800
49,599
Combo Offer
German A1 & A2 Level
25,600
24,000
Early Bird Offer
German A1 Weekdays Batch Note: This discount available only for a specific batch
12,800
11,500
Early Bird Offer
German A1 Weekend Batch
Note: This discount available only for a specific batch
12,800
11,500

You would like to learn German, but not able to visit nearby institutes and take classroom training? You are frequently travelling on your projects or work, you are completely packed with your schedules, you cannot fix yourself to any time and place to learn Online German Classes? If so, we have come up with very good alternative option for you! Indian Institute of Foreign Languages offer "Online German group classes" that allows you to take classes at your convenient timings and from where ever you are. You don't need to be at any particular place and visit our institute for classes. You would have a same classroom experience with fellow students between 3 to 10 numbers and our trainers make you feel your online learning is benefiting as good as classroom training. Rather learning on your own you can join our online group classes which makes you more confident in speaking through regular conversation practice with fellow students and regular interaction with the trainers.
What do I benefit from Online German group classes?
Our Online German group classes are offered at 6 levels A1, A2, B1, B2, according to CEFR standards. In each level you will be trained for all 4 skills Reading, Writing, Listening and Speaking with standard syllabus and training methodology. Our online classes are designed in such way that you achieve language fluency in a shortest possible time through:
Quick trainers support throughout the class period
Answering queries, clarification of doubts
Individual attention to make sure Uniform learning progress
Case by case learning tips and techniques
Regular assignments and evaluation and feedback
Extra study materials and guides for easy understanding of Grammar and Vocabularies
Regular assessment tests to monitor outcome of the training
Change your class timing in mutual understanding with fellow students and trainer is possible
At the end of the course, we do conduct one mock test similar to Certification exams
Sign Up To Watch Demo Class
Do I have to full fill any criteria to Learn German language?
No previous knowledge of German required those who start with A1. If you want to continue with further levels, knowledge of previous basics would be required
English knowledge is essential as classroom language is English
What do I learn in each levels and proficiency level that I achieve?