When companies learn to say "Hajimemashite!" – Foreign Language Training for Business
language training for business: What would you do if your company bagged a contract with a Japanese client? Well Google Translate will be of little help in translating a few words for you into Japanese… so what would happen if your client came down to visit your company?
Lekha Wireless Solutions Private Limited a company that provides end-to-end solutions in the areas ofWireless Communications and Embedded Systems had signed a contract with a client in Japan. The company approached our institute, Indian Institute of Foreign Languages, for training sessions on Japan as a country,Japanese work culture and phone as well as e-mail etiquette that needs to be followed while handling a Japanese client. We provided the company with an intensive training session along with simple greetings like how to say "Good morning", "Good evening", "Thank you" and many more.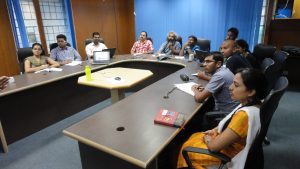 The training was filled with fun and laughter, as trainees started  practicing to greet in Japanese, exchanging business cards the Japanese way and keenly listening how to make a telephone call to their client in Japan. Works ethics and the importance of time were stressed during the session. The understanding of Japanese culture is essential to know how to behave, greet and talk in a Japanese work environment. Food habits and dining etiquettes were also taught, which helps in hosting a nice lunch or dinner party for clients.
     Bow and greet, greeting a person who is professionally at a higher level than you are, greeting colleagues who are professionally at your same level in your company and greeting every single person in a group or crowd were taught, as giving respect to each and every person is very important in Japan.
At the end of the session the trainees were practicing everything taught to them and were confident of impressing their clients in Japan.
Indian Institute of Foreign Languages is committed to educate corporates, companies, educational institutions, Governments and individuals with cultures of different countries and a systematic training in learning of many foreign languages and their certification.
Join us or call us for a training session. We also provide study abroad services.